Disclaimer:The Baby Amaze Learn to Talk & Read Baby Doll, information, and additional gift pack have been provided by VTech.
On July 16th, 2014 we were finally blessed to have a beautiful baby girl make her entrance to our family. She is our granddaughter and she is so smart. It is so amazing to see her trying to give her babies some of her snack or drink and then giving them love (kisses and hugs). Our granddaughter is talking, but she's still learning how to say words and sentences. it's so cute to hear her say I love you and Thank you, she sounds like she has an accent, just as her mommy had! So when I was asked about doing a review on VTech®'s new Baby Amaze Learn to Talk & Read Baby Doll, I jumped at it so my granddaughter can have help learning how to say words and read.
The Baby Amaze doll is a new line that uses technology to teach nurturing concepts and developmental milestones for toddlers whose parents want more from role-play dolls. This baby doll is revolutionary because it will repeat what you say or read from the three included vocabulary books featuring more than 70 words about animals, food and household objects. So not only can your little girl play with this doll but she will want to interact with the doll. And get this, the more you talk and interact with the doll, the more the doll will talk and repeat words! It is the most advanced baby doll I have ever seen!
VTech Baby Amaze Learn to Talk & Read Baby Doll
Watch your child's vocabulary grow with the Vtech Baby Amaze Learn to Talk & Read Baby doll, which encourages your child to teach the doll. The three included books feature more than 70 words, including the names of animals, foods and household objects, so your child can learn right along with the doll. A pacifier and bottle are included, so your child can nurture the doll, which responds to the accessories being held up to her mouth. Four buttons on the doll engage even more interactive activities.
Features:
Interactive baby doll learns to talk and read by repeating words and phrases
Builds vocabulary with 3 brightly colored books that include more than 70 words
Three included vocabulary books feature more than 70 words, including the names of animals, food and household objects
Baby will ask your child for her pacifier, bottle and more
Putting the bottle or pacifier to the doll's mouth and pressing the four buttons will activate interactive responses
Sings 4 sing-along songs and 8 melodies
Newborn button resets the baby doll to start over again
Works with the Baby Amaze 3-in-1 Care & Learn Stroller (sold separately)
What's Included
VTech Baby Amaze Learn to Talk & Read Baby Doll
Pacifier
Bottle
Three vocabulary books
The range of products for the Baby Amaze doll are available only at Toys"R"Us stores nationwide and online at Toysrus.com. This would be a perfect gift for the little girl in your life for Christmas!
Here are a few pics and a video of my granddaughter in Toys R Us with the Baby Amaze Doll. I have not actually had her to baby sit so I could get her reaction with the doll I received from VTech so I did the best thing I could while out shopping with her.
Be sure to check out the VTech Kids and Toys"R"Us for last minute gifts.
Follow VTech on Twitter and Facebook.
The awesome folks at VTech have offered a giveaway for a Baby Amaze Doll! Head on over here to enter
Check out the video below!
Click the image below to check out other featured gifts in our gift guide for 2015.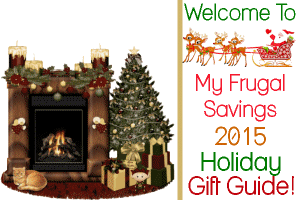 I'm a Gramma to a beautiful, funny, smart little girl who was born in July of 2014. She's the joy of my family and I'm so very proud to be a gramma (an alternate spelling for grandma)! I am a coffee, music, movie and outdoor lover! My family and I love picnics, festivals and concerts. Spending time with my family is the best part of my life. I love my job as well!  Blogging and product reviewing has given my family and I a lot and I have also learned a lot and made a lot of friends.