What are your Valentines Day Traditions?
My husband and I have been together for 36 yrs, however we will be married for 10 years in May. We have had many valentine's days to celebrate. Valentines Day Traditions are generally roses, chocolates, an animal of some kind and going out to eat. That's fine for some, however it's not for me. It's not that I don't like the flowers, candy and going out to eat, it's just that I'm older and I don't need all of that! I just need a simple thing to say I love you. This picture was taken in 2016 just before my husband's 55th birthday and just after our son in law's birthday.

A few years ago my husband wanted to order me roses, so he did and I got the bear and chocolates that went with it. It was 9PM when they arrived. So we didn't go out to eat, ended up with some left overs and my husband called to complain about it, so the next day I got a whole nother bouquet, bear and chocolates, so he gave them to our daughter. This one sticks out because I was starving and couldn't believe roses stopped me from going out to eat! LOL
Today I was at our granddaughter's Prince/Princess Royal Ball, right before it started I got a text from my husband. It made me smile. He had already told me Happy Valentine's day twice before he left for work.

February is commonly known as the month of love, where we celebrate the life of Saint. Valentine who is the patron of love, young people and happy marriage. Love is also a very funny thing. My husband and I are totally opposite of each other. As I like to say, he's salt and I'm pepper, and salt and pepper belong together. 😉 We met on a blind date through our friends who are no longer together and were surprised to hear that we had gotten married. LOL We are no longer friends, but they heard from mutual friends.
My husband and my Valentines Day Traditions are at home with a nice meal or fast food if we don't feel like cooking and watching a movie. This picture is how we celebrated this valentine's day. The movie River Runs Red, Heart shaped pizza and our daughter made homemade heart brownies and gave us one.
Below is a list of fun ideas for having a great 14th with your special one – plus a giveaway!
In the spirit of the season, here is a list of the "10 Tips To Rock St. Valentine's At home" downloadable PDF. It contains simple things you can do at home to show appreciation to the one you love without having to spend every penny in your savings account! It also includes some cool facts about the "whys" and history behind some of the most time-honored Saint Valentine's Day traditions!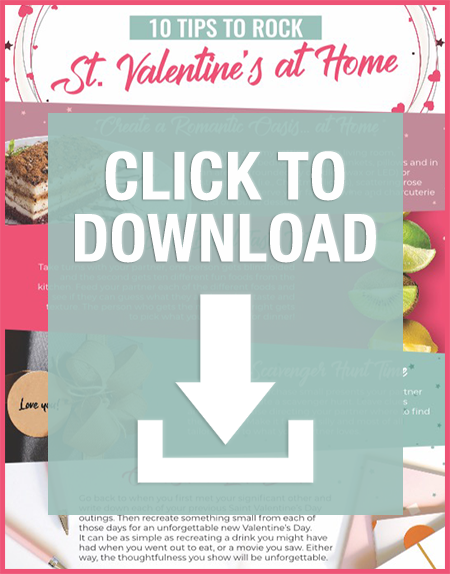 About CATHOLIC CENTRAL:
Do you have questions about the Catholic faith or what it means to be Catholic. Catholic Central has answers. Using a team of witty writers, appealing hosts, and even some learned theologians, they've created shareable, snackable videos that teach the timeless truths and deep history of the Church with humor and heart. Produced in the Family Theater Productions studios on Sunset Boulevard in Hollywood, CATHOLIC CENTRAL entertains, enlightens and inspires.
Happy Valentine's Day everyone!
Enter the Giveaway!
Stuff you should know before you enter the giveaway —>
* One winner will receive The St. Valentine's Prize Package from Catholic Central(ARV $25). Open to US residents only. Must be 18+ to enter. Winner will be notified via email with 24 hours to respond. A new winner will be selected after 24 hours. The prize will be sent via FedEx or USPS. No P.O. Boxes. If you or a member of your household have already won this prize on a blog giveaway you are ineligible to win again. Sponsor is responsible for verification and prize fulfillment.
Giveaway runs 02/14/19 – 02/24 at 11:59 PM CST* Good Luck!
Please note: I do verify entries, especially the mandatory blog comment! If you do not follow the rules of the giveaway, you will be disqualified from winning!
PRIZE
The St. Valentine Love Kit from Catholic Central includes:
(1) Red Rose LED Glass Dome elegant table lamp.

(1) Gold tone "Love" bangle bracelet
(1) Scented Square
I'm a Gramma to a beautiful, funny, smart little girl who was born in July of 2014. She's the joy of my family and I'm so very proud to be a gramma (an alternate spelling for grandma)! I am a coffee, music, movie and outdoor lover! My family and I love picnics, festivals and concerts. Spending time with my family is the best part of my life. I love my job as well!  Blogging and product reviewing has given my family and I a lot and I have also learned a lot and made a lot of friends.