My husband and I were given the opportunity to try Trusted Health Products Amazingly Beautiful and The Man 100% pure live skin care system that brings life and beauty back to your skin without any chemicals.
"Amazingly Beautiful" and "The Man" both use a rare combination of live fruit, nut and plant extracts to feed your skin cells and promote youthful skin. Beautiful also provides moist, beautiful glowing skin.  "The Man" also provides moist, smooth skin.
Beautiful arrived with my name on both bottles! The Man arrived with my husbands name on both bottles as well!  Can you imagine hearing "Brian is THE MAN" when he feels like he needs to rub it in a little?! LOL These would absolutely make a unique gift for Christmas or any other occasion!
Every bottle of Amazingly Beautiful is completely customized with the woman's name so she's reminded both day and night that she really is amazingly beautiful.  Every bottle of The Man is completely customized with the man's name so he's reminded both day and night that he is truly "The Man!"
The scent of Amazingly Beautiful is far better than anything else I've tried.  The formula is made from 100% pure botanical oils of almond, orange, lemon, avocado, evening primrose, olive and apricot so you know exactly what is going onto your skin.  There are no added chemicals, no added colors, no added anything of any kind.   Contains no preservatives, parabens, petrochemicals, synthetic ingredients, fragrances, GMO's, dyes or additives of any kind.  I love the simple ingredients that combine so brilliantly to make an effective product.
Best of all is my skin feels softer than ever!  I also seem to have a more youthful appearance with less signs of visible aging.  To a person my age (50), that's fantastic! Sun spots are less noticeable, red spots are more even giving a better complexion. I love looking younger! Every day when I look in the mirror I see a subtle improvement and feel more beautiful than I ever have.
My husbands complexion is looking better and his skin is just as soft as mine! He has a mustache and likes to grow a beard in the winter, so he really couldn't do much of a review, but he seemed to have liked the results before growing his beard in.
Visit them on Facebook. TwitterYoutube & Google+.
Click the image below to check out other featured gifts in our gift guide for 2015.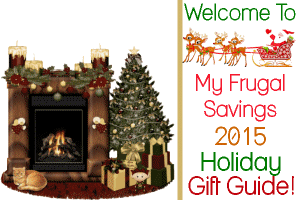 I'm a Gramma to a beautiful, funny, smart little girl who was born in July of 2014. She's the joy of my family and I'm so very proud to be a gramma (an alternate spelling for grandma)! I am a coffee, music, movie and outdoor lover! My family and I love picnics, festivals and concerts. Spending time with my family is the best part of my life. I love my job as well!  Blogging and product reviewing has given my family and I a lot and I have also learned a lot and made a lot of friends.