I am a big Thomas Kinkade fan! I've always wanted to own a piece of his work, but I was never able to afford his pieces of work. This year, I found a beautiful Thomas Kinkade Snowglobe "The Night Before Christmas" so I pitched for it and the company said yes! Now that made me beyond excited!
When I received the package, I was so excited and nervous, I didn't want to break it taking it out of all the Styrofoam!  I took it out, looked at it and put it up until we got our Christmas decorations up.  Now it is on top of our Christmas fireplace and it looks beautiful!  This is a piece I could keep out all year if I had the room!
Do you remember the wonder and excitement of Christmas Eve when you were a child? I still have that excitement that I felt as a child on the night before Christmas, except now it is because I get to see that excitement on my granddaughter's face. Makes me smile just thinking about it.
This Thomas Kinkade Snow Globe is a wonderful representation of that excitement and the wonder of Christmas Eve.
Snow magically swirls, lights glow and the house can be opened to reveal a magical scene while Thomas Kinkade himself narrates "The Night Before Christmas".  All while Santa and his reindeer are up on the rooftop.
What a cherished gift this snow globe would make for you or anyone on your gift list. Playing it on Christmas Eve could become a tradition.
This illuminated snowglobe was inspired by the holiday artwork of Thomas Kinkade that features the artist himself narrating 'Twas The Night Before Christmas. The snowglobe's base is a cast resin story house that swings open to reveal a meticulously detailed Victorian Christmas scene. With a brightly decorated Christmas tree, a crackling fire, and a Kinkade holiday painting hanging above the stocking-laden mantle, father in his nightcap peers out the window "to see what was the matter". (Contrary to the verse, there's even a mouse stirring beneath Santa's cookies.) A flip of a switch casts a warm, gentle glow upon the hand painted scene and sends festive flakes dancing throughout the glass snowglobe of Santa and his reindeer as Thomas Kinkade himself reads the beloved holiday poem. The three-way switch creates different combinations of snow, light, and narration. Powered by the included AC adapter or three AA batteries (not included). Hand-numbered with certificate of authenticity. 9″ L x 6 1/2″ W x 6 1/4″ D. (6 1/2 lbs.)
Click the image below to check out other featured gifts in our gift guide for 2015.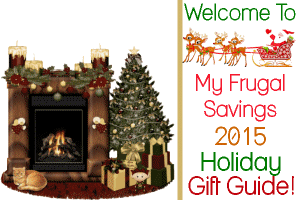 I'm a Gramma to a beautiful, funny, smart little girl who was born in July of 2014. She's the joy of my family and I'm so very proud to be a gramma (an alternate spelling for grandma)! I am a coffee, music, movie and outdoor lover! My family and I love picnics, festivals and concerts. Spending time with my family is the best part of my life. I love my job as well!  Blogging and product reviewing has given my family and I a lot and I have also learned a lot and made a lot of friends.