My entire family are fudge lovers.  In fact every time the holidays come around, the first thing my daughter and son in law tease me about is having to wait for my fudge!  See, I fix my fudge a day or two before Christmas, so it can last  into New Years…if not, it would all be gone before Christmas! 😉  When I was contacted by The Mill Fudge Factory, I jumped at the chance to try new fudge that someone else had made and I could enjoy! 😉
In time for the 2015 holiday season, the family-owned and operated Mill Fudge Factory & Ice Cream Café is now offering its delectable line of hand-crafted fudge nationally through its online shop at themillfudgefactory.com . The Bristol, NH-based small business, founded by the Munro family in 2006, uses the family's secret Scottish recipe and 100% natural ingredients to create authentic fudgeunlike any that can be found on this side of the Atlantic.
We received two different delicious flavors to try, Original Penuche and Belgian Chocolate, YUM! These are just two of MANY flavors of fudge that you can find on The Mill Fudge Factory website.  The Mill Fudge Factory fudge is available in an assortment of classic and inventive flavors, including Belgian Chocolate, Chocolate Walnut, Natural Peanut Butter, Scottish Whiskey, Pure New Hampshire Maple, Bailey's Irish Cream, Pumpkin Pie and much more. The Factory also offers an assortment of sugar free fudge, decadent truffles and toffee. All confections are available in gift baskets and elegant sampler boxes.
Belgian Chocolate – Made with dark Belgian chocolate (62%cocoa), this fudge represents the perfect balance between intense chocolate satisfaction and a smooth easy-to-eat chocolate fudge. Whether your preference is for milk chocolate or dark, you'll love it.
Original Penuche – This flavor is closest to the original Scottish fudge that our family recipe originates from. One of the most popular flavors because of it's uniquely rich, melt-in-your-mouth texture. Made with just four simple ingredients: cane sugar, Cabot butter, milk, and pure honey! A deeply satisfying caramel or dulce de leche experience!
My husband cut the fudge into very thin slices to try it.  The fudge is very rich, and the flavors are awesome.  A very small piece (thin slice) will tame even the largest craving for sweet.  We each got 1 slice of each flavor every night for about a week!
I had never tried Penuche Fudge, but I'm glad she sent this flavor as it was delicious!  It had a caramel/butterscotch taste to it.  Coming from someone who doesn't like either of those flavors, try this fudge, you won't regret it!  This was the first one I tried and it melted in my mouth and I immediately wanted more!
The Belgian Chocolate fudge was also delicious, sweet, smooth and rich. It's a decadent treat that goes well with anything, and also makes a great gift for special occasions and holidays!
I can't forget to mention that this fudge is thicker than any homemade fudge I've ever had!

To learn more Visit The Mill Fudge Factory
For the holidays look for the seasonal favorites like Holiday Mint, Pumpkin Pie, Eggnog, Cranberry Maple Nut and Chocolate Salted Caramel.
Connect with The Mill Fudge on Social Media. Facebook | Twitter | Pinterest
The nice folks at The Mill Fudge have offered a giveaway for a 2 pound sampler ($39.95 value). Be sure to enter!
Click the image below to check out other featured gifts in our gift guide for 2015.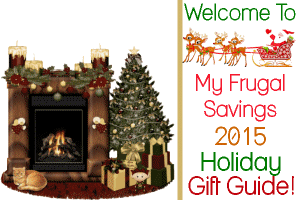 I'm a Gramma to a beautiful, funny, smart little girl who was born in July of 2014. She's the joy of my family and I'm so very proud to be a gramma (an alternate spelling for grandma)! I am a coffee, music, movie and outdoor lover! My family and I love picnics, festivals and concerts. Spending time with my family is the best part of my life. I love my job as well!  Blogging and product reviewing has given my family and I a lot and I have also learned a lot and made a lot of friends.