Everyone knows about Elf on the Shelf, the elf you can't touch or it will lose his/her magic, but have you heard of an Elf you can touch? It's called a Snuggable Elf, which is a soft, lovable, cuddly elf that is ready to join your family this holiday season. Snuggable Elfs are available in both girl and boy varieties with both light skin and dark skin. There's an Elf for everyone in your family. Best part is you can touch these elves and they don't loose their magic!
The Elf Workshoppe, offer a variety of fun accessories, furniture items, and transportation vehicles for their cuddly elves too. You can start your very own elf traditions each and every year. I received a Snuggable Elf to review.  I tried to get a bed or sleigh to review as well, but for some reason the company did not send one! When my new Snuggable Elf arrived I put her on the side, and waited for the rest to arrive! Now that Christmas is only a few days off, she is out and about without a bed or transportation.
My new elf is a little girl with long braided yellow yarn hair. She is decked out for the holiday season in a green Santa hat with white trim, green elf costume with red and white striped sleeves, red mittens, and green elf shoes. She is absolutely adorable. I wanted this Snuggable Elf for my granddaughter, because she loves to touch everything. Now as she grows up, she'll have the Elf you can touch and she won't be afraid of her Elf loosing her magic! Her mother (my daughter) named her Bubbles. Bubbles is so squishy, soft, and totally lovable. She can sit up by herself without tipping over and really helps to put you in the mood for the holidays.

Bubbles sitting with Santa and the SnowMan.

Bubbles sitting on Mr Bingo's Lap!

Bubbles sitting on top of a gift, and she's even leaped into the tree and made herself comfy! LOL
The Elf WorkShoppe, "Where Christmas Comes to Life," offers fun and magical collectible accessories for the company's snuggable Elf doll or for another companies' elves. Accessories include "Comfy Home" items, such as his or her own teddy bear and gifts, rocking chair, bath tub, bed, and other charming accessories to make an Elf feel right at home; as well as "Transportation Center" notions so a child's Elf can travel to the North Pole in his own car, Elf express train, sleigh or sled.
Elf Snuggables are only $12.99 and are available in the Elf Gift Shoppe on The ElfWorkshoppe website. Elf transportation vehicles and furniture pieces start at just $12.99. Elf furniture are bath tubs, beds, rocking chairs, and more. The Elf transportation vehicles include sleighs, sleds, and even cars specially sized with your Elf Snuggables in mind. Order now, and your Elf Snuggable will include it's own velvety soft Snuggle Bag which completes the Elf Snuggables look and makes it perfect for gift giving.
Click the image below to check out other featured gifts in our gift guide for 2015.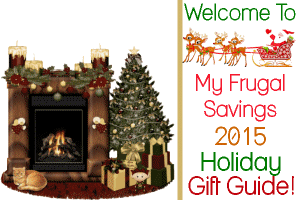 I'm a Gramma to a beautiful, funny, smart little girl who was born in July of 2014. She's the joy of my family and I'm so very proud to be a gramma (an alternate spelling for grandma)! I am a coffee, music, movie and outdoor lover! My family and I love picnics, festivals and concerts. Spending time with my family is the best part of my life. I love my job as well!  Blogging and product reviewing has given my family and I a lot and I have also learned a lot and made a lot of friends.