When my granddaughter was born, I wanted so badly to sew a few things for her, bibs, burb cloths, sheet/blanket. So I took out the sewing machine my husband had bought me about 25 yrs or so ago and it would not work!  So, I contacted Singer and to my great surprise and excitement, they said yes to working with me! 😀 I received the Singer S900 Inspiration Sewing Machine, which is one of Singers newest sewing machines for free in exchange for this review.  Guys y'all just don't know how excited this made me!  Not only to receive a new sewing machine, but that it's one of their newest models!
The Singer S900 Inspiration Sewing Machine is every bit the fantastic machine you'd expect from Singer. It comes with an amazing set of features including 100 built-in stitches, hundreds of stitch functions and a huge assortment of snap-on presser feet and more…..
FEATURES & BENEFITS
SwiftSmart™ Threading System with Automatic Needle Threader
Top Drop-In Bobbin with Clear View Cover – easy in and out bobbin for quicker threading
Automatic Stitch Width & Length – the right stitch settings every time
6 Fully Automatic 1-Step Buttonholes – professional results at the touch of a button
Programmable Needle Up/Down – for easier quilting and appliqué
24 Presser Feet Included – expands your creative sewing possibilities
100 Built-in Stitches – essential, decorative & stretch
Drop Feed – lower the feed dogs for free-motion quilting and button sewing
Extension Table Included – manage quilts and large projects with ease
ACCESSORIES
HSN Value Added Accessories
Accessory Storage Box, Adjustable Seam Guide, Beading Foot, Button Sewing Foot, Chenille Stitching Foot. Cording Foot, Even Feed/Walking Foot, Flower Stitch Attachment, Fringe Foot, Invisible Zipper Foot,  Non-Stick Foot, Open Toe Foot, Parallel Sewing Foot, Piping Foot, Roller Foot, Presser Foot Shank
Standard Accessories
All-Purpose Foot, Zipper Foot, Buttonhole Foot, Blind Hem Foot, Satin Stitch Foot, Overcasting Foot, Gathering Foot, Narrow Rolled Hem Foot, Straight Stitch Foot, Side Cutter, Darning & Freehand Embroidery Foot, Needles, Bobbins (Class 15J), Auxiliary Spool Pin, Thread Spool Caps, Spool Pin Felts, Screwdriver, Seam Ripper / Lint Brush, Extension Table, Soft-Sided Dust Cover, White Foot Pedal, White Power Cord, Instruction Manual with included Stitch Guide, Quick Start Guide
NEW! White Foot Pedal & Power Cord 
The Singer S900 Inspiration Sewing Machine has great features for the beginner to intermediate sewer. The instructions are clear and easy to follow for quick set-up. The auto threading feature is amazing! The machine is quiet and user friendly. Operates very smoothly.
I love the auto threading feature, that makes it so much easier and the stitches wow so many to choose from!  I can't wait to learn the machine better and do so much more with it.  So far I've only been able to toy around to see how I like it for the review, but I can say I LOVE my new machine!  It won't be put away that's for sure!
Here's a video on the steps

The awesome folks at Singer have offered to giveaway a Singer S900 Inspiration to 1 lucky reader! MERRY CHRISTMAS!! Head on over here to enter
Where can you buy this machine? Use the store locator
I received the Singer S900 Inspiration Sewing Machine ($499 value) free in exchange for my opinion.  No monetary compensation was received.   Thank you so much Singer, you've made my sewing future so much brighter…I will have lots of fun making things for my granddaughter 🙂
Click the image below to check out other featured gifts in our gift guide for 2015.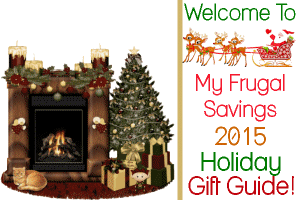 I'm a Gramma to a beautiful, funny, smart little girl who was born in July of 2014. She's the joy of my family and I'm so very proud to be a gramma (an alternate spelling for grandma)! I am a coffee, music, movie and outdoor lover! My family and I love picnics, festivals and concerts. Spending time with my family is the best part of my life. I love my job as well!  Blogging and product reviewing has given my family and I a lot and I have also learned a lot and made a lot of friends.