Every woman, teen and pre-teen loves to polish their nails. SinfulColors has some of the prettiest colors I've ever seen! I've done reviews on this brands polish collections before and they recently sent me some more polish to make my nails pretty for the holidays! 🙂
I received their Pine Away (lovely green), Purple Heart (beautiful purple), Blue By You (very pretty blue color), Out of this World and Queen of Beauty (silvery and sparkly colors). I also received the red color in the picture below (I think it's called Red Eye), but my daughter swiped it to use and I can't reach her to get the color name at this time. Sorry
Here's the nail colors and how they look on my fingers.

If you haven't gotten that one special nail color to wear for Christmas or New Years, you really should give SinfulColors a try! SinfulColors polish goes on beautifully and dries to a (light) touch in just a few minutes.  It took a bit longer to fully set.  Overall, I am very happy with the color variety, performance, and end results.
These make a fantastic stocking stuffer or you can get a few of the SinfulColors, some nail polish remover (pads not liquid), and the nail set (Mani/Pedi) and put it all in a nice gift bag or box for a really nice inexpensive gift!
Buy It: Head over to SinfulColors to learn more about what they offer.  Retailing for $1.99 each, you can find SinfulColors products at Walmart, Walgreens and other major retailers this holiday season.
Connect: Don't forget to like SinfulColors on Facebook, follow them on Twitter and Pinterest, and Instagram for all the latest news and promotions.
Check out my other SinfulColors Collections reviews there just as beautiful!
Click the image below to check out other featured gifts in our gift guide for 2015.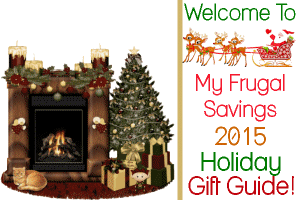 I'm a Gramma to a beautiful, funny, smart little girl who was born in July of 2014. She's the joy of my family and I'm so very proud to be a gramma (an alternate spelling for grandma)! I am a coffee, music, movie and outdoor lover! My family and I love picnics, festivals and concerts. Spending time with my family is the best part of my life. I love my job as well!  Blogging and product reviewing has given my family and I a lot and I have also learned a lot and made a lot of friends.