Are you tired of cleaning the filter or clearing the hose when it gets blocked on your old vacuum? I hated it, I'd have to ask my husband to unclog the hose just about every 2 weeks. So when I was thinking of things to include in my Holiday Gift Guide this year, I thought a Shark vacuum would absolutely be an awesome gift, so after looking on their site, I requested the Shark Rocket Deluxe Pro to review!
The Shark Rocket Deluxe Pro vacuum is amazing! I love it!  The first time we vacuumed our living room with it, it picked up so much I was amazed!  I couldn't believe it picked up so much more than our other vacuum did.  I'm happy to know my carpets are deep cleaned every time we vacuum now.
It is a low maintenance, high powered bagless vacuum with a small frame. There are no messy filters to clean and no hoses to get blocked with debris causing them to lose suctioning power. The Shark Rocket Deluxe Pro is very easy to use.
Clean your whole house:
Ceiling Fans
Vents
Furniture
Counters
Stairs
Drapes
Window Sills
Under Appliances
and In Your Car!
The Shark Rocket Deluxe Pro comes with 2 fittings – one for carpet and one for hard floors. The motor or "main brain" of the vacuum is located at the top instead of at the bottom like many vacuums making it top heavy. However, this makes the vacuum easier to maneuver. The motorized brush floor nozzle, which is the fitting used for carpet, is small but highly flexible. The floor nozzle uses a swivel maneuver for hard to reach places. This would be most comparable to zero turn technology used in lawn mowers. The motorized brush floor nozzle is equipped with a headlight to illuminate the floor space. The vacuum also comes with crevice tools for areas unable to be reached by the motorized brush.
Features:
2X Dust Cup Capacity
Superior Carpet and Bare Floor Cleaning*
Never Loses Suction or Power
All the Power without the Weight
Versatile Floor to Ceiling
LED Lights
Easy to Empty Dust Cup
Easy Storage
Advanced Steering
Premium Pet Tools
Tools can Ride on Board
There are different attachments available for purchase for the Shark Rocket Deluxe Pro. Some include the TruePet motorized brush designed specifically to pick up pet hair and dander. There are also a variety of crevice tools and brushes. The debris canister is located at the top of the vacuum and is extremely easy and not messy to empty. The vacuum may also be stored off of the floor by mounting the included wall bracket.
Overall, this is the best vacuum I have ever owned. I love that it can be used in many other ways beyond being a traditional vacuum. The pivot ability and its ability it get in tight spots is such a nice addition to vacuuming! Priced at just under $200 this is a steal of a deal! I know the Shark Rocket Deluxe Pro will last me for years to come! I am so happy the nice people at Shark agreed to let me do this review and include them in my holiday gift guide. Be sure to like Shark on Facebook so you can stay up to date on the latest products available!
Available on Amazon.
Click the image below to check out other featured gifts in our gift guide for 2015.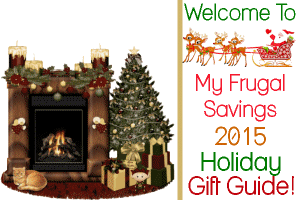 I'm a Gramma to a beautiful, funny, smart little girl who was born in July of 2014. She's the joy of my family and I'm so very proud to be a gramma (an alternate spelling for grandma)! I am a coffee, music, movie and outdoor lover! My family and I love picnics, festivals and concerts. Spending time with my family is the best part of my life. I love my job as well!  Blogging and product reviewing has given my family and I a lot and I have also learned a lot and made a lot of friends.