Have you ever wanted to get that special someone the perfect gift? Well, if they are into beauty products, your search is over! Sephora has everything from make-up to fragrances to even a gift for the man in your life! If your special someone is hard to buy for and your not sure what to get, Sephora also offers gift cards! They can redeem online and in store to pick that perfect item just for them!


I am new to Sephora, but my daughter isn't. It was like Christmas day on Thanksgiving when my husband and I put everything I received from the Sephora company to list in our holiday gift guide in front of her. She was very excited!

The Sephora brand has great products and they offer a rewards program called Beauty Insider! With this feature you can earn points with every purchase to put towards free items! You also get a free gift for your birthday! They also offer mini makeovers in store too so that you can find that perfect look just for you!
You can find Sephora located in JCPenny and stand alone stores. Call ahead to make an appointment in your area!
Here are some of the products they offer in store and online which I received!

Sephora Collection Ombré Obsession Face Palette, $34 ($175 value). Just swivel your brush in the finely-milled shadows for an all-over luminous glow or stick to the brightest pinks to warm up a dull complexion.

Sephora Collection Stand Up and Shine Prestige Easel Brush Set, $130 ($320 value). One of the greatest gifts anyone could receive this season is fresh makeup brushes. This deluxe rose gold set contains staples to apply foundation, concealer, lipstick and brow powder flawlessly and a cream case that pulls double duty as a standing easel.
Atelier Cologne Necessaire Azur Gift Set, $25 ($55 value). With a few spritzes, we feel like we've been transported to some exotic destination. These colognes are blended with fresh notes of citrus and ginger as well as woody and floral hints of magnolia, cedarwood and amber from regions across the globe.
Tria Hair Removal Laser 4x Essentials Kit $399.00 ($469 Value). A Sephora-exclusive, limited-edition set that includes everything you need for effective at-home hair removal. Hair Removal Laser SmoothStart Calming Gel preps, comforts, and cools skin prior to using your Tria Hair Removal Laser, helping to speed results while smoothing skin during treatments. You will get a more pleasant laser hair removal experience at home with permanent results, and skin will be left soft and moisturized.
Fresh Skincare Heroes $58.00 ($81.00 value) A collection of Fresh essentials that contains everything you need to cleanse, treat, and moisturize skin and lips, wrapped in a silver-embossed box adorned with a festive bow for the perfect gift.
This set contains:
– 1.7 Fresh Soy Face Cleanser
– 1 oz Fresh Lotus Youth Preserve Face Cream with Super 7 Complex
– 1 oz Fresh Rose Face Mask
– 0.15 oz Fresh Sugar Lip Treatment Sunscreen SPF 15
bareMinerals GLIMMER & GLOW™ 5-Piece Radiant Complexion Collection Plus Bag $42.00 ($99.50 value) This collection's illuminating cult favorites for the complexion, eyes, and cheeks to bring a glowing look to every festive occasion. Featuring a face and eye brightener, foundation primer, luminizer, highlighter, an angled face brush, and a makeup bag to keep it all together this set has everything you need to brighten one feature for a striking accent, or create an allover, glamorous makeup look.
This set contains:
– 0.02 oz Well-Rested® Face & Eye Brightener
– 0.5 oz Prime Time™ Foundation Primer
– 0.05 oz Warmth All-Over Face Color
– 0.03 oz Turn On Gold Multi-Tasking Highlighter
– Angled Face Brush
– Makeup bag
Sephora has all these wonderful products plus a whole lot more!  There's only 3 more shopping days to grab these fabulous products!
Nail Polish Formula X Bottle Service Set $36.50 A limited-edition 10-piece mini nail polish set with bestselling bold and neutral shades featured in premium champagne bottle packaging.

Sephora Collection Breakups To Makeup Holiday Bag $26. A fun, travel-friendly makeup clutch that holds all your beauty essentials and personal items.
Plus more!
First Aid Beauty FAB To The Rescue Sampler Kit $32.00 ($42.50 value)  A sampler set with five favorite First Aid Beauty formulas in simple, on-the-go packaging.
Bésame Cosmetics Lipstick & Matchbook Set $23.00 ($28.00 value) A set of five rich, highly pigment lipsticks housed in a portable matchbook, plus a full-size lipstick with a satin, matte finish that delivers full coverage in one coat.
Sephora Kiss Me Balm $8 A kissable, scented lip balm with subtle or no color, that provides up to four hours of hydration.
Thank you so much to Sephora for including My Frugal Savings in the opportunity this year, it really made my day to receive all these wonder items 🙂
Click the image below to check out other featured gifts in our gift guide for 2015.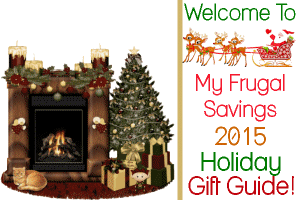 I'm a Gramma to a beautiful, funny, smart little girl who was born in July of 2014. She's the joy of my family and I'm so very proud to be a gramma (an alternate spelling for grandma)! I am a coffee, music, movie and outdoor lover! My family and I love picnics, festivals and concerts. Spending time with my family is the best part of my life. I love my job as well!  Blogging and product reviewing has given my family and I a lot and I have also learned a lot and made a lot of friends.