Introducing RapidLash Eyelash and Eyebrow Enhancing Serum, a clinically-proven, paraben-free formula that helps enhance, condition and strengthen lashes and brows.  It is the perfect solution for women who suffer from limp, damaged, dehydrated lashes due to age, stress, medication and environmental factors.
RapidLash is not a prescription, but a cosmetic, over-the-counter product that has been proven to transform your lashes and brows with enhanced length, shine and sheen. Ideal for both men and women, this product has not been tested on animals, is fragrance-free, ophthalmologist and dermatologist tested and is safe for contact lens wearers. Users can typically see best results in 8 weeks, but consumers have seen results in as little as 4 weeks.
WHAT IS IT?
A lash- and eyebrow-enhancing serum
WHAT DOES IT DO?
Makes lashes and brows look longer and thicker
KEY INGREDIENTS?
Octa/copper/oligo peptides, biotin, and panthenol (lash strengtheners)
HOW DOES IT FEEL/SMELL?
The clear serum has a chemical smell, but you won't notice it unless you actually sniff the applicator.
WHY WE LIKE IT?
The treatment makes lashes look longer and thicker in a few weeks—enough that you could actually switch from black mascara to brown mascara if you wanted to. In order to keep the results, you have to keep using it on a daily basis.
RapidLash Lash and Brow Enhancing Serum is about $57 for 2 30 ml tubes at Costco. It normally retails at Ulta* for $50 per 30 ml tube, and on Amazon* for about $27 each.
The packaging of RapidLash is compact and makes the product so easy to use. It comes with a thin brush that makes it easy to quickly swipe along the base of your upper eyelashes from the inner corner of the eye outwards.  You can apply it to your lower eyelashes as well. You just have to be careful not to get it in your eyes. You also want to make sure that your eyelids are clean and free from any makeup before applying. I suggest you apply it right before bed or in the morning before putting any makeup on. If your skin is super sensitive, don't worry this product hasn't caused me any irritation at all.
With ingredients like pumpkin seed extract, soybean oil, peptides, biotin, panthenol, and amino acids, RapidLash Eyelash Enhancing Serum will make your lashes look longer, fuller, thicker, and more youthful.
You can purchase RapidLash in stores or online at the following retailers:
This may sound like a strange gift idea, but if you know someone who uses this and you are stuck for a gift, why not buy some for them? You can use it as a stocking stuffer too!
Click the image below to check out other featured gifts in our gift guide for 2015.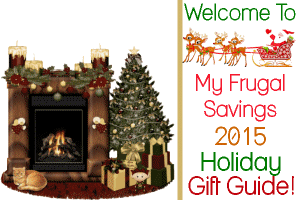 I'm a Gramma to a beautiful, funny, smart little girl who was born in July of 2014. She's the joy of my family and I'm so very proud to be a gramma (an alternate spelling for grandma)! I am a coffee, music, movie and outdoor lover! My family and I love picnics, festivals and concerts. Spending time with my family is the best part of my life. I love my job as well!  Blogging and product reviewing has given my family and I a lot and I have also learned a lot and made a lot of friends.