When I was younger we had a Polaroid Instant Print camera. I loved that camera! I could take a picture and it would spit out instantly! All you had to do was put it down on a table and watch the picture come to life! It was SO COOL! I needed a new camera, so I reached out to Polaroid for a review and they offered me the Polaroid Z2300 Digital Instant Camera. Polaroid is that camera brand that everyone has a little nostalgia for. I was excited to get my hands on one.
Yes it does look and feel like a little brick. It does have a 10mp camera in it though, and takes fairly good quality pictures, but… And you knew the but was coming didn't you. I'm not happy with it. With the Polaroid Polaroid Z2300 you actually have to press a button for the picture to print out and the prints are smaller 2×3, but hey, they are cute little prints!
Features
10MP camera
ZINK® Zero-ink printing
2×3″ color photos
720p HD video
2.5″ LCD screen
6x digital zoom
Review:
The Polaroid Z2300 instantly prints 2×3 photos, which is fun and a novelty at events. It takes 10MP photos. The prints are stickers too, which makes scrapbooking easier. You can make multiple prints of one picture, an option not available in traditional Polaroid. With the traditional camera, the photo you took was the one and only copy in those days. The Polaroid Z2300 has built in editing (minimal but some), framing graphics and color hue options. You can put an SD card in for loads more memory, it shoots video too. It has old school switches for the functions like macro to landscape. With a nice big LCD screen on the back.
You can purchase this camera on Amazon,

Walmart.com (Free Store Pickup) and Best Buy.
Click the image below to check out other featured gifts in our gift guide for 2015.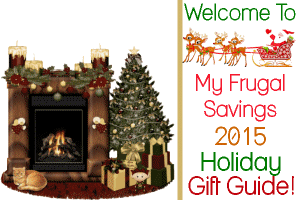 I'm a Gramma to a beautiful, funny, smart little girl who was born in July of 2014. She's the joy of my family and I'm so very proud to be a gramma (an alternate spelling for grandma)! I am a coffee, music, movie and outdoor lover! My family and I love picnics, festivals and concerts. Spending time with my family is the best part of my life. I love my job as well!  Blogging and product reviewing has given my family and I a lot and I have also learned a lot and made a lot of friends.