With the holidays in full swing, thoughts of holiday crafts with your kids, stocking stuffers, or even table decorations or party supplies for a family gathering on Christmas Day or for your New Years party come to mind! Oriental Trading Holiday Touches are inexpensive and in my opinion better than what you can find at a $ store! They have everything from summer to winter, including wedding decorations!  I worked with Oriental Trading in July for my granddaughter's 1st birthday.  Check out our review on their Minnie Mouse 1st birthday party decorations.  They were so cute!
As part of the Blogger community for Oriental Trading Company I am able to work with the company every 4 months and feature some fantastic products for any celebration.  For Christmas, I requested Plastic ware, Santa Cups, Plates, Napkins, stocking stuffers, decorations and more!

Table Decorations!
We received Santa Disposable Cups, Gifts From Santa Party Supplies (Dinner and Dessert plates, Luncheon and Beverage napkins),  Square green dinner plates, and White High Count Cutlery Set (210 pieces)
Gifts and Decorations!
Made of fabric with real jingle bell accents, these cute country Santa and snowman dolls are a charming addition to a shelf, mantel or tabletop. Their cute dangle legs make them a fun home accent for any Christmas décor. For decorative use only. (2 pcs. per set) 17″. These are so cute!  I've always wanted something like this, never had a place to put them so this year I made it a point to find a place!
March off to bed with this well-dressed penguin pillow. This Plush Penguin Pillow makes a cool holiday gift that kids will cherish long after Christmas. They'll love to cuddle up with this plush pillow and it makes a great surprise to put under the Christmas tree. You'll waddle in to dreamland thanks to this happy little winter pillow. 12″ x 16″. Imported.  This is such a cute pillow!  My granddaughter loves penguins so I have no doubt in my mind that this will become her favorite pillow!
How many more days until Christmas? Use this Elf on the Shelf Countdown Calendar to count down the days with chocolate! Keep the Christmas tradition going with your family or give it to a friend as an early Christmas gift! (24 pcs. per unit) 10″ x 14″ Total wt., 2 oz. © CCA and B, LLC.  I did a countdown calendar with my daughter when she was young.  I was very happy to find this one so my daughter can do it with my granddaughter, although I did not read that it had candy included, guess mommy and daddy will have to share 😉
Stocking Stuffers!!!
What a sweet way to liven up your next Christmas party! Include everyone's favorite Hershey's chocolate in festive holiday wrapping. Sprinkle this Christmas candy on table tops at your holiday party or use to make Christmas treat bags that'll satisfy everyone's sweet tooth or use them as stocking stuffers. Includes Hershey® Kisses®, Reese's® Peanut Butter Cups® Miniatures, Hershey's® Miniatures, Mr. Goodbar® and Krackel®. (Approx. 89 pcs. per unit). Total weight, 1 lb. 5 oz.
Fill your holiday stockings with tasty chocolate treats! This delicious Christmas Candy Assortment includes York® Snowflakes, Hershey's® Milk Chocolate Santas and Reese's® Peanut Butter Trees. Individually wrapped. (Approx. 34 pcs. per unit, 1 lb. 2 oz.)
Dress up a holiday gift of wine with this festive Santa bottle cover. It makes a fun hostess gift for a Christmas party, too. Made of fabric, this bottle cover features iridescent trim on its hat and coat. 16″L.  Isn't this the cutest bottle cover you've ever seen? Well it is for me!  I'm going to figure out where to put it for a decoration instead.
Be sure to check out their Christmas store and order in time for Christmas delivery!
Click the image below to check out other featured gifts in our gift guide for 2015.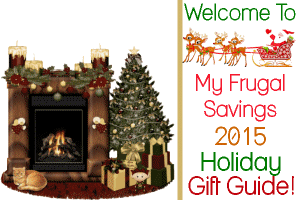 Disclosure: I was sent $75 in party decorations free of charge from Oriental Trading. All opinions in this post are 100% my own. No other compensation was received.
I'm a Gramma to a beautiful, funny, smart little girl who was born in July of 2014. She's the joy of my family and I'm so very proud to be a gramma (an alternate spelling for grandma)! I am a coffee, music, movie and outdoor lover! My family and I love picnics, festivals and concerts. Spending time with my family is the best part of my life. I love my job as well!  Blogging and product reviewing has given my family and I a lot and I have also learned a lot and made a lot of friends.