Juicy Juice, recently launched brand-new product offerings—including Juicy Juice Splashers, a refreshing 50/50 blend of filtered water and fruit juice in a pouch, which have 50% less sugar than the leading juice and added four new flavors to its line of kid-favorite 100% juices, including Strawberry Watermelon, Passion Dragonfruit, Peach Apple and Cranberry Apple.
Juicy Juice is any kids favorite juice! I know my granddaughter is just starting to have juice boxes and her favorite is Juicy Juice Fruit Punch! 🙂   She has this very unique thing she does when she likes something, she'll sip it and then go UMMM!  She's so cute!  So Juicy Juice got a UMMM!
These would make great stocking stuffers, but you can also give little ones the opportunity to help set their own table, with kid-friendly decorating and menu ideas like these:
Did you know Juicy Juice had recipes on their website?  Here are a few holiday favorites to try!
Baked Apple Recipe. Christmas Cheer Recipe. Apple Cider Recipe. Thanksgiving Turkey Craft
Make a kids-only menu item: A fun way to get kids involved and excited about the holiday season is to have them make a dish just for them. Try a low-stress, minimal ingredient recipe like Baked Apples (from Juicy Juice). End result: a seasonal and healthy dessert or side just for kids.
Serve festive drinks for the kids, too: Let the little ones sip on a glass of Apple Cider (made with Juicy Juice), a warm Christmas Cheer punch or set up a DIY drink station so they can make something special for themselves. Help kids combine half juice such as Juicy Juice with no added sugar, half sparkling water and add an easy fruit garnish or a festive straw. For younger kids, you can put a colorful selection of Juicy Juice boxes in an open cooler or bucket of ice so they can serve themselves.
Kids-Table Chic: Whether they help pick the color scheme, set the table or craft the centerpiece, let kids have a say in what goes at their table. Work together to create a centerpiece where guests can write what they're thankful for on a paper leaf or make a Juice Box Turkey place setting with supplies found around the house.
Endless Entertainment: For a rustic look (and a way to keep kids entertained during dinner) use brown craft paper in lieu of a tablecloth and set out some crayons and pencils for drawing and tic-tac-toe.
Click the image below to check out other featured gifts in our gift guide for 2015.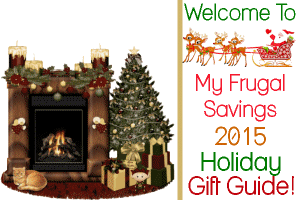 I'm a Gramma to a beautiful, funny, smart little girl who was born in July of 2014. She's the joy of my family and I'm so very proud to be a gramma (an alternate spelling for grandma)! I am a coffee, music, movie and outdoor lover! My family and I love picnics, festivals and concerts. Spending time with my family is the best part of my life. I love my job as well!  Blogging and product reviewing has given my family and I a lot and I have also learned a lot and made a lot of friends.