I recently had the opportunity to review Spy, which came out on Blu-Ray back on September 29th.  Now when I heard Melissa McCarthy was playing in another comedy, I knew I just had to see it!  At the time, life was a bit of a mess so I didn't make it to the theaters. When I was given the opportunity to do the review on the Blu-Ray, I jumped on it, I was so happy!   Here is a bit of a synopsis of the movie:
Queen of Comedy Melissa McCarthy "in her funniest movie yet" (Leonard Maltin, LeonardMaltin.com) embarks on the mission of a lifetime as secret agent Susan Cooper in SPY. The Blu-ray will include two versions of the film – Theatrical and never-before-seen Unrated Cut.  The DVD will feature the Theatrical version. 
McCarthy is armed and hilarious in this "outrageously entertaining" (Peter Travers, Rolling Stone) comedy hit from director Paul Feig (The Heat, Bridesmaids). Deskbound CIA analyst Susan Cooper is about to become the world's newest — and unlikeliest — secret weapon. When her partner (Law) falls off the grid and another top agent (Statham) is compromised, Susan volunteers to go deep undercover and bring down a deadly arms dealer. Loaded with wise-cracking action and adventure, SPY is a mission impossible to resist!
Review:
The last movie I saw McCarthy in was Tammy and frankly I did not like that movie at all! It just wasn't funny and I didn't want to watch it again with my husband who has never seen it, that's how bad that movie was.  However I am a McCarthy fan, so I would watch her movies bad or good at least once!
SPY reunites McCarthy with Bridesmaid director Paul Feig, who also wrote the script, and it was exactly what McCarthy needed to reclaim her "Queen of Comedy" role.  The movie was filled with hilarious-ness!  Seriously, it was that laugh out loud over and over again kind of movie that makes you cry! I could watch this movie a few more times! I'm sure my sister won't mind watching it with me (bigger fan than I am) or my daughter.
The Blu-ray includes both a theatrical and unrated version.  While I watched the theatrical version, you can bet I am going to go back for some unrated action.  And bonus features, bonus features bonus features!  Number one reason to have the Blu-Ray is the bonus features!  SPY has 15 classified alternate scenes, 3 redacted scenes, featuring Jason Statham and outrageous performances by the rest of the cast, including Miranda Hart, Allison Janney, Bobby Cannavale, Peter Serafinowicz, and 50 Cent.
So what are you waiting for?  Head on out and purchase a copy of SPY today and have a laugh-tastic weekend Or get it for a Melissa McCarthy fan and put it under the tree!  One of the best gifts to give a fan!
You can find Spy anywhere Blu-Ray/DVD movies are sold!
Click the image below to check out other featured gifts in our gift guide for 2015.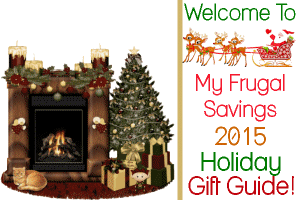 I'm a Gramma to a beautiful, funny, smart little girl who was born in July of 2014. She's the joy of my family and I'm so very proud to be a gramma (an alternate spelling for grandma)! I am a coffee, music, movie and outdoor lover! My family and I love picnics, festivals and concerts. Spending time with my family is the best part of my life. I love my job as well!  Blogging and product reviewing has given my family and I a lot and I have also learned a lot and made a lot of friends.