♫ It's beginning to look a lot like Christmas! ♫ What a treat we received from the kind folks at Christmas Forest®. They make beautiful, fresh and fragrant Christmas wreaths. We were delighted to receive their Jingle Bells Wreath to review ~ Jingle Bell Wreath has the smell of Christmas!  Beautiful lit or not!  I am so happy to have received it free of charge to review and giveaway! Thanks Christmas Forest!
Handcrafted from evergreens in the Cascade Mountains, the wreath arrived in pristine condition with not a branch out of place. Even the bow was fluffy and perfect. The scent of freshly cut Christmas trees immediately filled the room as we opened the box. My daughter was telling me she wanted to go buy a Christmas tree now because the wreath smelled so good!  We love the smell of pine! 😀
The wreath has tiny lights amidst the pine-cones, shiny ornaments and jingle bells. These wreaths are lovely on a front door, over a fireplace, and make a wonderful gift especially for family and friends who love the scent of a live tree. We decided to add a festive touch to our dinning room and hung it on our back door inside. This way the Christmasy smell stays indoors 😉 ~
The red velvet bow can be easily secured to the top, bottom or side of the wreath with the attached wire. A battery pack is hidden in the back of the wreath. The 20″ Jingle Bells Wreath retails for $50 with free shipping at Christmasforest.com.  It is packed with moisture to keep it fresh during shipping. Remove it right away, because if it gets warm in the box it could start to mildew.  Keep it in a cool, dark place and spritz it every day or so until you are ready to put it out.  If it is dry there, or you place it in a warm or sunny spot for the holidays, you can continue to spritz it as needed. Spritzing brings out the Christmasy smell 🙂
Follow Christmas Forest on Facebook and Twitter. The elves at Christmas Forest have a surprise for a lucky reader, it's a giveaway!
Click the image below to check out other featured gifts in our gift guide for 2015.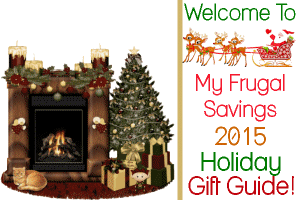 If you're entering our giveaways please follow us and our generous sponsors on the social media sites to which you belong. Modern Day Gramma can be found on Facebook, Twitter, Instagram and Pinterest.
I'm a Gramma to a beautiful, funny, smart little girl who was born in July of 2014. She's the joy of my family and I'm so very proud to be a gramma (an alternate spelling for grandma)! I am a coffee, music, movie and outdoor lover! My family and I love picnics, festivals and concerts. Spending time with my family is the best part of my life. I love my job as well!  Blogging and product reviewing has given my family and I a lot and I have also learned a lot and made a lot of friends.