With Thanksgiving fast approaching, cooks across the nation will soon be looking for creative and convenient entertaining solutions to help their families enjoy an unforgettable holiday feast. Just in time for Thanksgiving, Jennie-O, a trusted ally in the kitchen, is making sure you won't spend the day tied up on a holiday help line by launching the Jennie-O Turkey "Holidays and Events" page.
The JENNIE-O OVEN READY Turkey is a fool-proof whole turkey that goes straight from the freezer to the over and requires minimal prep and no thawing or handling of raw poultry — it's truly the perfect solution for first-time hosts or those who simply want an easier entertaining experience this year. Here's the listing of all Jennie-O's gluten-free products (be sure to look around and click on "see more" if shown because this page is displayed differently in different browsers).

What "gluten free" means to Jennie-O.

1) Does Jennie-O do any testing to ensure their products are 100 percent gluten-free?

Yes, Jennie-O Turkey Stores do have a testing process as part of their Allergen Control Program.  Jennie-O Turkey Store's gluten-free products comply with Government standards for gluten-free requirements.  As a proactive control measure, Jennie-O Turkey Store invests considerable time and effort into verifying incoming ingredients, proper formulation, and proper labeling for the products that they produce.

2) How does Jennie-O ensure there is no cross contamination from their products that include gluten?

Jennie-O Turkey Stores have administered a strict Allergen Control Program since 1998.  One of their primary goals in this program is to formulate their products so that they do not contain allergens.  If they are producing products that are not allergen-free, those products are identified and segregated in their production processes.
I have never purchased a big Jennie-O Turkey. I've always just purchased the Turkey & gravy which is really good! Their turkey burgers and bacon are also good. In fact, all Jennie-O turkey products are great, have no clue why I've never purchased a big turkey! LOL I will have to change that. I went to use my coupons this weekend and Walmart did not have any Jennie-O at all, guess they sold out? I had my daughter and son-in-law looking as well, and we gave up.

Giveaway!
Giveaway will start today November 20th and will end at 11:59PM CST on November 22nd.   Entrants must be at least 18+ years old and reside in the US.  Winner will have 24 hours (Nov 24th) to contact me with their mailing info.  I will select a new winner if I need to.  Good Luck!
Take the "What Kind of Holiday Host Are You?" quiz : http://bit.ly/1Sc0ehh  leave your answer in the comments.  I will select the winner of $30 in Jennie-O Coupons on Monday Nov 23rd.  I know you won't have it in time for Thanksgiving, but you will have it in time for Christmas 🙂  Good Luck!
Click the image below to check out other featured gifts in our gift guide for 2015.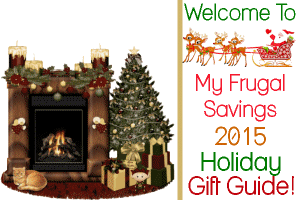 I'm a Gramma to a beautiful, funny, smart little girl who was born in July of 2014. She's the joy of my family and I'm so very proud to be a gramma (an alternate spelling for grandma)! I am a coffee, music, movie and outdoor lover! My family and I love picnics, festivals and concerts. Spending time with my family is the best part of my life. I love my job as well!  Blogging and product reviewing has given my family and I a lot and I have also learned a lot and made a lot of friends.