This Vented Microwave Cover is BPA FREE, has Steam Release Vents, Splatter Prevention, Keeps Food Warm & Fits Standard Dinner Plates.
We love this vented microwave cover! We find that our food is so much better because of the increased moisture and the food seems to retain heat longer.  Before we got this cover, we heated our food with a paper towel or a microwave lid from the $ store!  Now we use this awesome vented cover, it's faster and easier to use. The lid protects against food splatter and keeps your microwave cleaner which is a big plus.

You just place the cover over a dinner plate, it will help heat the food faster as it holds steam in to warm the food. You can also leave the lid on to keep the food warm until you serve it. Holding in moisture is important when you are freshening bread or rolls. The lid is clear so you can see your food while it is cooking.  The lid is dishwasher safe on the top shelf but we just wash ours in hot soapy dishwater.
Product Description

Great microwave food cover for microwave to keep your microwave clean from food splatter. Fits best with standard dinner plates – 10.5 diameter x 3.5 height
Easy To Clean – Our microwave cover dishwasher safe is easy to clean with just soap or water or top rack in dishwasher.
Splatter Cover Microwave – The microwave dish cover is high enough to not touch your food. The microwave cover with handle is easy to lift in and out of the microwave oven and is a must have for cookware for microwaves.
BPA Free Microwave Plate Cover – Lab tested and certified microwave cover no BPA.
Vented Steam Release – Our microwave splash cover comes with vented top to open to release steam and close to keep food warm.
You can purchase this fantastic vented microwave on Amazon.
Click the image below to check out other featured gifts in our gift guide for 2015.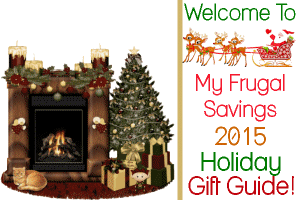 I'm a Gramma to a beautiful, funny, smart little girl who was born in July of 2014. She's the joy of my family and I'm so very proud to be a gramma (an alternate spelling for grandma)! I am a coffee, music, movie and outdoor lover! My family and I love picnics, festivals and concerts. Spending time with my family is the best part of my life. I love my job as well!  Blogging and product reviewing has given my family and I a lot and I have also learned a lot and made a lot of friends.