First off, many thanks to the folks at iCoffee for sending us one of their Opus brewers to try out.
The iCoffee Brewer runs very similar to the Keurig and can in fact use Keurig Coffee pods.  The iCoffee machine has a different type of brew head. The folks at iCoffee call it spin-brew technology.  Simply put, instead of the hot water squirting out of the end of a needle into the ground coffee, it comes out of the side of the needle, as the needle turns. This allows for a more even distribution of the hot water across all of the coffee grinds.
Here are some ways you can use iCoffee to stay warm and entertain loved ones indoors:
Rise and Shine! iCoffee offers coffee lovers the freedom of using any single-serve k-cups and, thanks to SpinBrew™ Technology, enjoy premium quality taste without having to sacrifice the convenience (or speed) of a hot single-serve cup of coffee. At the end of the day, opt for decaf grounds and enjoy a smooth nightcap with friends before hitting the sheets.
Feeling under the weather? Add cinnamon or another spice of your choice to iCoffee's iCup, an eco friendly reusable k-cup, and curl up under a blanket as you recover. Non coffee drinkers can also use fresh mint leaves or ginger to make a morning cup of tea that will give them energy for the day ahead.
Can't forget the kiddoes. Kids love this sweet treat: with iCoffee, use the k-cup of your choice to create a delectable mug of hot chocolate every time. It's the perfect way to spend some quality time as a family after a long day playing in crisp fall leaves or trick-or-treating.
Inside the iCoffee box was the machine itself, a 6 K-cup sample cups, so I got to try new coffee and a reusable coffee filter for using your favorite ground coffee.  Tim Horton's coffee is YUMS!   I have used ground coffee and K-cups in the machine and I can tell you, there is a difference.  Coffee taste so much better now!  Depending on the cup I am using, I set the machine to brew (8-11 ounces).
The only real issue I encountered was space! The machine is a little larger than my Keurig and so I had to make room for it on the counter, but it's there now.  It's a nice machine and if you're trying to decide which single serve Coffee machine to buy, you should definitely consider this one.  I absolutely LOVE MINE!
My sister asked me to fix her a cup of coffee, she was like 15 minutes away, so she told me to wait 10 minutes then fix it, I waited till she walked in the door, pushed the button and in a few seconds she had a hot cup of coffee 🙂
Watch this video on how to use the machine and watch me make my morning coffee.

There is no doubt in my mind that if it's the K-Cup format you want, the iCoffee brewer is by far the best buy. The coffee it produced wasn't just a little bit better, it was a lot better.
You can buy the iCoffee Opus Single Serve Brewer on Amazon.com
Connect with iCoffee on their social media Facebook, Twitter, and Instagram.
1 lucky reader will win an iCoffee Opus ($140 value)! Be sure to enter!
Don't forget to enter our giveaway to win an iCoffee Opus of your own! Good Luck!
Click the image below to check out other featured gifts in our gift guide for 2015.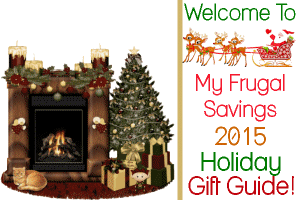 I'm a Gramma to a beautiful, funny, smart little girl who was born in July of 2014. She's the joy of my family and I'm so very proud to be a gramma (an alternate spelling for grandma)! I am a coffee, music, movie and outdoor lover! My family and I love picnics, festivals and concerts. Spending time with my family is the best part of my life. I love my job as well!  Blogging and product reviewing has given my family and I a lot and I have also learned a lot and made a lot of friends.