Do you remember that feeling you had when your parents read you the night before Christmas? I do. I remember my sister buying me this big light blue book that my mother would read me every Christmas eve. I read it to my daughter when she was young. Then we had a pipe burst and well, I lost that book 🙁 Anyway, I See Me! provided me with a personalized copy of their My Night Before Christmas Personalized Book and Santa's Coming! Personalized Ornament for my family to experience and share our thoughts with you.
I read through the book so I could do the review, I was hoping to have my granddaughter over night, but that isn't happening until this weekend and these posts need to get done.
My opinion:
I loved it. My granddaughter's name is on almost every page. Her family members, her cats names and the city she lives in are also included in the book. It's a very unique personable book which I am sure she and her parents will enjoy reading for years to come.
Personalizing the Night Before Christmas was a lot of fun. There are so many options to make the story unique. Personalization includes some typical items like name and family names, but this book also allowed for gender, skin color, hair color, hair style, and pets. The personalization went throughout the book in both the illustrations and the story. The story is the very familiar Night Before Christmas, but with familiar names and places cleverly included. The illustrations included family names on the stockings, town name on signs, and even the cat's name on a pet bed. It was so much fun to read a story we all know so well and catch all the places it was rewritten for our family.
I See ME! books are well made with heavy pages and strong binding. They will last through many years of reading… and this will be a book you'll want around for a long time. The artwork is beautiful! The colors are vibrant, but there is a soft and soothing quality to the images. This would make a wonderful gift for a child who has a birthday just before Christmas or just a bedtime story for the holidays.
The Santa's Coming! ornament's print is nicely done and vibrant, but there is nothing spectacular about it. It is  a very lightweight ornament. The print is slipped into a slot on top of the ornament and is not sealed off in any way. Ultimately, it is an ornament and should be treated delicately like other ornaments.
If a book or ornament is not quite the Christmas gift you're looking for but you still want something special, I See Me! also offers a wide selection of other items including colorful Lunchboxes, fun Puzzles, creative coloring Books, special Placemats, great Stickers,  and Growth Charts to grow with! Keep them in mind beyond the holiday season too… their products make great gifts for any occasion!
Save 20% off — Enter code SPECIAL at checkout! Expires 12/16/15
My Night Before Christmas Personalized Book – Nestle your child all snug in bed with this classic personalized Christmas story. This beautifully illustrated storybook is sure to become a tradition your family will cherish every holiday. ($34.99)
Santa's Coming! Personalized Ornament – Your child will love being the star of the Christmas tree with this beautifully illustrated ornament featuring his or her name and photo. ($9.99)
Sign up for discount promotions and company information here.
Facebook | Twitter | Pinterest | Instagram | Google
I See Me! provides the highest quality, most personalized children's books available. They opened for business in May of 2000, after a year of active product development. The founders received a personalized book as a gift for their first son in 1998. They loved the fact that it was personalized, but thought that the illustrations could have been much better and the story more customized to the child. Thus I See Me! was born. Their mission is to increase self esteem in children through personalized books that celebrate the uniqueness of each child. The goal of I See Me books is to show each child how absolutely unique and special he or she is, to teach the child how to spell his or her name, and to build vocabulary skills.
Click the image below to check out other featured gifts in our gift guide for 2015.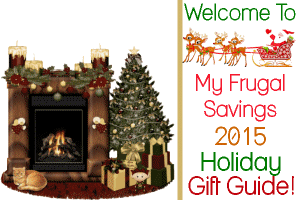 I'm a Gramma to a beautiful, funny, smart little girl who was born in July of 2014. She's the joy of my family and I'm so very proud to be a gramma (an alternate spelling for grandma)! I am a coffee, music, movie and outdoor lover! My family and I love picnics, festivals and concerts. Spending time with my family is the best part of my life. I love my job as well!  Blogging and product reviewing has given my family and I a lot and I have also learned a lot and made a lot of friends.