I am from the south, so when I want a glass of iced tea, I want my southern sweet tea I make at home! I was given the opportunity to review Honest Tea's Ginger Oasis and Cinnamon Sunrise and some of the Kids Super Fruit Punch and Berry Berry Lemonade. My granddaughter sure did enjoy her drinks! She is just really starting to know what she likes and don't like. LOL
The Honest Tea Cinnamon Sunrise is unlike any traditional iced teas I've ever had.  It's brewed with herbal rooibos tea leaves, cinnamon and ginger root.  Although it's unsweetened, it certainly doesn't lack in flavor!  I am not that big of a Cinnamon fan, but my husband really liked them.  The Ginger Oasis Tea is an unsweetened brew of rooibos, ginger root and Egyptian lemongrass*.
Oh and aside from being zero calories and caffeine free, it's also gluten free, organic, non- GMO and Fair Trade Certified!
Honest Tea has a huge variety of both sweetened and unsweetened teas. Their teas are brewed from real tea leaves, and all of their products are certified organic and Fair Trade Certified. You can learn about all of their products HERE.
The story as to how Honest Tea came about is actually quite interesting. The founders of Honest Tea were on a mission to create a beverage that was both not too sweet and most definitely not tasteless.  After some playing around, they created a drink made with real tea leaves dubbing it Honest Tea not only for the origin of the tea leaves but also to describe the type of relationship the company would strive to create with it's customers and suppliers.
Honest Company now makes a variety of beverages aside from tea including Honest Kids, Honest Fizz and Summer Refreshers as well as the traditional Honest Tea Glass Bottles. Their new flavor Cinnamon Sunrise comes in a bottle.
I believe these would be a fun addition to stocking stuffers or gift baskets!
Honest Tea was gracious enough to send me an entire case to enjoy PLUS they also agreed to giveaway an entire case to one of my lucky readers!
Click the image below to check out other featured gifts in our gift guide for 2015.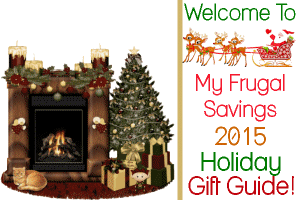 Did you like what you read? Please share your thoughts, tips or suggestions in the Comments section below.
Don't forget to visit me on my Facebook Page | Twitter Account | Instagram | Pinterest Page! and don't forget to check out my Youtube Channel ♥
Sharing is Caring! 🙂
I'm a Gramma to a beautiful, funny, smart little girl who was born in July of 2014. She's the joy of my family and I'm so very proud to be a gramma (an alternate spelling for grandma)! I am a coffee, music, movie and outdoor lover! My family and I love picnics, festivals and concerts. Spending time with my family is the best part of my life. I love my job as well!  Blogging and product reviewing has given my family and I a lot and I have also learned a lot and made a lot of friends.