When I was younger, I knew my legs and butt looked good in any pants or shorts I wore. But now that I'm older, I've noticed that my pants and shorts are kind of baggy in the rear and I'm not as slim as I use to be! Which is why when I was given the opportunity to review Hold Your Haunches, I jumped at the chance! I was interested in their Sleek Cheeks Leggings and I wanted to look good in my pants again!
Hold Your Haunches™ Shapewear revolutionizes the quest to keep our bodies looking their best! Their design features a luxurious boot cut (the Booty Patootie Bootcut), straight leg (Sleek Cheeks Leggings) and capri length (Caboose Boost Capri) leggings. These shapewear are lined with the finest body-shaping compression which results in a comfy, modern, sleek silhouette…and because the liner extends from the waist to below the calf, the resulting magic is your little secret. Available in black, chocolate brown and white, with navy and charcoal on the way, an entire winter wardrobe can be built around these pants. The MSRP $120-139 depending on style.
I received the Sleek Cheeks Leggings to review and they are perfect to wear with your boots, give your tummy a slimmer look and boosts your butt!
Every girl needs a good pair of leggings. Dress them up or dress them down – you can wear leggings with just about anything.  With Hold Your Haunches™ body shaping leggings, your stomach and butt will look better than ever! Leggings simply don't get better than this, because they're a good pair of leggings that make your rear-end a perfect 10.
The Sleek Cheeks Leggings feature two layers of goodness. The outside is a luxury legging that discreetly masks an inner compression layer. The body shaping liner with slimming technology is sewn in at the waist and extends all the way below your calf which keeps your legs and butt looking smooth and tight all day long. Wear the adjustable waistband high, pulled just underneath your bra, or fold it down if you like the foxy low-rise look. the waistband was designed to provide you with customized coverage. So long muffin top!
How to order your leggings:
Sizing: If you are between sizes, do NOT order up. Hold Your Haunches™ Shapewear Pants are true to size.
Fit: Our 4-way stretch fabric results in a different fit for everyone.
Fabric: Outside – 88% Nylon, 12% Spandex; Lining – 85% Polyester, 15% Spandex
Inseam: 30″ (All Sizes)
Care: For best results, machine wash cold on gentle/delicate cycle with like colors and hang to dry.
I am between a size 12 and 14, so I ordered a size large and they fit really good! Had I ordered up, they would have sagged and not have been effective. In the before picture below, I am actually holding the leggings down so my husband could get a before pic (I had pictures, but I couldn't find them so these were taken last night). My tummy slimmed down a lot in the after pic!
These are the front and side pics of the leggings, we won't talk about the butt! I have no clue why there is an M there! LOL I tried to photoshop it out, but it didn't look right.
These leggings smooth out all the lumps and bumps and they are SO soft. But because they compress the skin, if the adjustable waistband is worn folded over, it will move your skin upwards leaving a muffin top to run over, which I don't like. A loose-fitting top conceals any top flab, as does pulling the waistband up over the tummy for fuller coverage.
Other than the stomach-sucking feature, I love the fit of the legging itself. So many leggings are restrictive at the ankles, but these have more give near the ankle and even bunch a little for added style.
How to put them on
You can order your leggings on the Hold Your Haunches website – and be sure to check them out on Facebook, Twitter, Pinterest, and Instagram.
Click the image below to check out other featured gifts in our gift guide for 2015.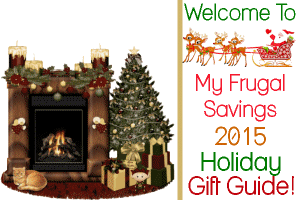 I'm a Gramma to a beautiful, funny, smart little girl who was born in July of 2014. She's the joy of my family and I'm so very proud to be a gramma (an alternate spelling for grandma)! I am a coffee, music, movie and outdoor lover! My family and I love picnics, festivals and concerts. Spending time with my family is the best part of my life. I love my job as well!  Blogging and product reviewing has given my family and I a lot and I have also learned a lot and made a lot of friends.