If you have a puzzle lover, someone who loves to garden on your list, check out these hobbyist gifts below!
The New York Times 'Tis the Season Crosswords
This crossword puzzle is bound to make any puzzle lover happy.  Edited by crossword great Will Shortz, this beautiful book offers 165 puzzles, from easy to hard. It's the perfect crossword gift for the holiday season.
I love that the hardcover, spiral bound book is compact and easy to carry, and because it's a hard cover, there is no worry about having wrinkled, or torn pages. There are eas, moderate and hard puzzles in the book, and the answers are in the back if you get stuck. The holographic design on the cover is vert eye catching and beautiful. You can purchase this crossword book at Barnes & Noble and on Amazon and Macmillan Publishers. This Tis the Season collection would make a great gift for any crossword lover. Don't forget to enter The New York Times 'Tis the Season Crossword Puzzle Book Giveaway! Ends Dec 10th.
3 Pack Garden Gloves for Women + Garden Kneeling Pad – Breathable Nitrile Garden Gloves, Elastic Wrist – Thick Kneeling Cushion
Very nice set! The outside of the gloves are rubberized, which makes cleaning them easier. The patterns are very nice. Any gardener would like them! The knee pad helps you kneel for a longer period of time and feels more comfortable than the cement or grass. I know a lot of gardeners that don't even think about getting a knee pad!  These gloves are designed to keep the dirt out which make it so much easier to dig your hands in the soil. I LOVE that! The last gloves I had, I got soil in them and it was just not pleasant for me. You can purchase this set on Amazon.
Product Description
BREATHABLE NYLON – Breathable nylon eliminates sweaty hands during gardening
NITRILE COATED – These nitrile garden gloves women help to stop dirt and water from going through the gloves on your hands.
EASY TO CLEAN – Easy to clean women garden gloves, just use soap and water, rinse and hang to dry.
LARGE GARDEN KNEELING PAD – Size 15.25 x 11.50 x 0.375
VERSATILE FOAM KNEE PAD – Thick foam cushion to protect your knees. Can be used for gardening as well as other household chores
These gardening supplies would make great Hobbyist Gifts!
Click the image below to check out other featured gifts in our gift guide for 2015.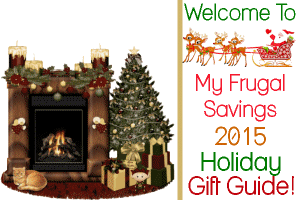 I'm a Gramma to a beautiful, funny, smart little girl who was born in July of 2014. She's the joy of my family and I'm so very proud to be a gramma (an alternate spelling for grandma)! I am a coffee, music, movie and outdoor lover! My family and I love picnics, festivals and concerts. Spending time with my family is the best part of my life. I love my job as well!  Blogging and product reviewing has given my family and I a lot and I have also learned a lot and made a lot of friends.