Well it happened! I fell in love with HAIR SPRAY! LOL I have hard to hold hair and the hair spray I am using right now, holds it, but not for a long period of time nor in the wind! I am so happy to be able to do a review on the Fat Hair
Amplifying Hair Spray! The first time I used it, I thought wow, sticky, however the sticky feeling was short lived! (lasted about less than a minute!) My hair looked natural and felt soft, PLUS it stayed in the wind! 😀
FAT Hair has a new Advanced Repair Formula for their Amplifying Hair Spray. This formula adds extra volume, fullness and shine all while repairing hair. It also restores limp, damaged and dry hair into beautiful, healthy voluptuous hair. The unique formula lets your style stay all day long. Hair also stays soft for touchable hold and can be brushed out for easy re-styling.
FAT Hair has an exclusive Amplifying blend of protein extract, inositol and taurine that repairs limp damaged hair and gives it fuller, shinier and healthier looking style. This hair spray also comes in a smaller, more convenient travel size.
WHAT IS FAT HAIR AMPLIFYING HAIR SPRAY?
A volumizing hair spray
WHAT DOES IT DO?
Fat Hair Amplifying Hair Spray Adds body, texture, and hold to fine hair
KEY INGREDIENTS?
Copolymers (provideS hold and texture); collagen (volumizes)
WHY WE LIKE IT
Flat hair gets a huge lift—and stays that way—without feeling stiff or tacky; you'll also notice a brilliant shine. Spritz in short bursts near roots and between layers; use too much and your hair will start to feel dry. Fat Hair Website
from Samy keeps my extremely hard-to-hold hair in place all day.
This hair spray is fantastic! It does actually allow hair to hold a style all day long, while keeping hair soft and allowing for movement.  I love my hair to have great volume and this does exactly what that.  My husband complemented me on my hair for Thanksgiving and I didn't give it another thought, then realized I used the amplifying hair spray and it did look fuller and better than with the other hairspray! So it is noticeable too!
Now, does it actually repair hair? That is something I am not sure about, but it does a good job of actually leaving my hair with great hold and and looking good, which I am happy about, so I give it a thumbs up. If it does more than that then that is icing on the cake.
It comes in a 10 oz./283 g spray bottle for $11.99. and is available from the FatHair Website, Amazon, Wal-Mart and mass market retailers around the country.
Fat Hair has offered 3 lucky readers a chance to win their Fat Hair Amplifying Hair Spray! Head on over and enter.
Like FAT Hair on Facebook | Follow FAT Hair on Twitter | and Subscribe to FAT Hair on YouTube.
Click the image below to check out other featured gifts in our gift guide for 2015.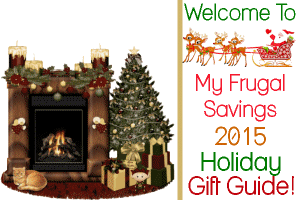 I'm a Gramma to a beautiful, funny, smart little girl who was born in July of 2014. She's the joy of my family and I'm so very proud to be a gramma (an alternate spelling for grandma)! I am a coffee, music, movie and outdoor lover! My family and I love picnics, festivals and concerts. Spending time with my family is the best part of my life. I love my job as well!  Blogging and product reviewing has given my family and I a lot and I have also learned a lot and made a lot of friends.