Disclaimer:The PEEPS® and PEEPS & COMPANY® products, information, and additional gift pack have been provided by PEEPS® and PEEPS & COMPANY®.
When I was a young child my favorite candy in my Easter Basket was always Peeps® Yellow Chicks. Man, I would have to hide them from my dad who also enjoyed them. I mean I would always get jelly beans, chocolate eggs and of course a chocolate bunny, but PEEPS® Holiday Sweets is what made my Easter.  As I got older, I couldn't wait for Easter to come so I could get "my stash of sweetness" for the holiday.
When PEEPS® contacted me with the PEEPS® Holiday Sweets opportunity of a gift pack full of festive holiday flavored PEEPS® and PEEPS & COMPANY® treats, I immediately said yes! I was so excited!  I couldn't believe I would be working with my favorite candy brand from when I was a child.  When the box arrived, I couldn't believe how much was inside the box! I even have a PEEPS® stuffed Chick to put in my granddaughters stocking! 🙂
Several years ago when I saw Peeps on the shelf for Christmas, I was overjoyed to be able to score some PEEPS® Holiday Sweets earlier than Easter!  I put some in all the stockings! LOL My husband and daughter are also Peeps lovers. I still had to stock pile my favorite candy to last me from one holiday until the next, however with being able to buy PEEPS® for every holiday, it became easier to make them last. Now, my all time sweet joy is available all year round. 😀 Not only is my sweet treat available seasonally, but the shapes have changed from chicks to trees, snowmen, gingerbread men, to hearts, ghosts, and pumpkins and bunnies to name just a few.
Not to leave the addition of different flavors on the back burner PEEPS® has added new and EXCITING flavors to their lineup. Peppermint, Sugar Cookie, Mint, Ginger Bread are just a few to be mentioned. Christmas flavors, UMMM GOOD!

But, PEEPS® didn't just stop there; they added something……Lollipops!  A gingerbread flavored Gingerbreadman Lollipop!
They have also remade my old favorite candy into my NEW favorite candy.  PEEPS® has continued making this sugary wonder and introduced it to a new generation by making Peeps Rainbow Pop. Umm,Umm, Good!
Our Eater baskets are never without an Easter Peep and now our Christmas stockings will be the same. A Christmas stocking is never the same without a sweet….by the name of PEEPS® .
You can find PEEPS® in just about every store around. Plus you can order them online on Amazon and on the Peeps and Company® website. Enter the coupon code SWEETINGS15 at checkout to save 20% off your order, no minimum required. Coupon valid through Dec 31st.
Information about the PEEPS® products I received:
PEEPS® Large Banana Crème Flavored Minion: PEEPS® introduces a new banana crème flavored marshmallow in honor of the beloved Minions characters. Three varieties of the individually packed large Minions include the likeness of Kevin, Stuart and Bob – stars of the Minions movie available on DVD this holiday season. Available only for a limited time!
PEEPS® Vanilla Crème Chicks Pop: Fans can celebrate holiday traditions with these four classic Vanilla Crème flavored marshmallow Chicks on a stick.
PEEPS® Marshmallow Minions: To celebrate the DVD release of the Minions Movie, PEEPS® created a Minion-shaped marshmallow reflecting their fun PEEPSONALITY®. The original marshmallow Minions are sure to please admirers of all ages. Available for a limited time only!
PEEPS® Candy Cane Flavored Marshmallow Chicks: Those who prefer their Candy Canes chicks without the chocolate can indulge in the peppermint-goodness of Candy Cane favored chicks!
PEEPS® Large Marshmallow Snowmen: Large, fluffy PEEPS® Brand Snowmen are fun to eat and to share! Available in one count stocking-stuffer size packages, and three count share size.
PEEPS® Gingerbread-Flavored Marshmallow Gingerbread Men: Now you can get the gingerbread flavor you crave all year long in something other than a cookie with PEEPS® gingerbread flavored marshmallow gingerbread men.
PEEPS® Marshmallow Trees: It wouldn't be the holiday season without seeing a Christmas tree! Enjoy green PEEPS® tree-shaped marshmallow decorated with red, yellow and blue garland and topped with a star.
PEEPS® Marshmallow Snowmen: PEEPS® traditional sized snowmen! PEEPS® Marshmallow Snowmen are adorned with a top hat and candy cane decorations with a nostalgic look.
PEEPS® Chocolate Mousse-Flavored Marshmallow Reindeer: These reindeer shaped marshmallow PEEPS® are chocolate-mousse flavored and oh so delicious!
PEEPS® Holiday Pop: This delicious marshmallow flavored pop comes with four assorted Chicks representing the holiday colors: green, red and white.
Information about the PEEPS & COMPANY® products:
PEEPS® Plush: Cuddle up with your favorite PEEPS® this year. Perfect for stocking stuffer or under the tree and a warm surprise. Plush varieties include:  PEEPS® Gingerbread Man, PEEPS® Elf Plush Chick, PEEPS® Plush Candy Cane Chick, PEEPS® Plush Snowman.
MIKE AND IKE® MERRY MIX Candy: Filled with 4 ounces of MIKE AND IKE candies featuring Lime, Cherry and Holiday Punch flavors, this is a great way to add a little extra sweetness to the presents you give or if you need an item on hand for a quick gift that's sure to please the sweetest people in your life.
PEEPS® Lollipop: A delightful handmade PEEPS® lollipop perfect for party favors, stocking stuffers, or secret Santa surprises. Available in PEEPS® Gingerbread or PEEPS® Snowmen varieties.
Connect with Peeps & Company®… FACEBOOK |TWITTER  | Instagram | Pinterest
Connect with Peeps®…. Facebook | Twitter | INstagram | Pinterest | Peeps Website
Connect with Mike & Ike®…Mike & Ike Website | Facebook | Twitter | Instagram
Click the image below to check out other featured gifts in our gift guide for 2015.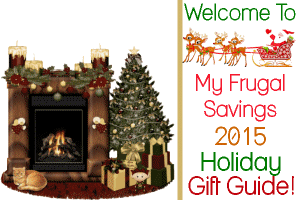 I'm a Gramma to a beautiful, funny, smart little girl who was born in July of 2014. She's the joy of my family and I'm so very proud to be a gramma (an alternate spelling for grandma)! I am a coffee, music, movie and outdoor lover! My family and I love picnics, festivals and concerts. Spending time with my family is the best part of my life. I love my job as well!  Blogging and product reviewing has given my family and I a lot and I have also learned a lot and made a lot of friends.