Ecocentric Mom is a unique subscription box that features mom & baby products. The products in the box are eco-friendly, natural, organic, and often vegan-friendly. They offer 3 different box options,  "Mom & Baby" box, "Mom-to-Be box" and just a "Mom" box.  Subscriptions are $24.95/month, (or less with multi-month commitments) and shipping is free. You can choose to receive your boxes monthly or every-other-month.
Everything was tucked beneath a layer of their signature pink tissue paper. The 2-sided info card lists all of the items in the box, along with a brief description of each one. Exclusive discounts are also included to use on future purchases.
Piyo Piyo Bendies Bendable Spoon & Fork Set – These BPA- and phthalate-free utensils feature a bendable grip that you can adjust for both right and left handed little ones. This is so cute! I'm adding it to my granddaughter's stocking stuffer bag.
Ellovi Butter Mint Chocolate Mini – Oh wow… This stuff smells amazing! It's made with just 6 all natural ingredients (Mango, Hawaiian coconut, African shea, European cocao, peppermint, and non-GMO corn starch) and is both vegan & cruelty-free. Its hydrating oils penetrate the skin to keep it nourished for days.
Acure Baby Fix-It Stick – This all natural, 100% organic balm helps to ease your little one's ouchies without nasty chemicals. Pumpkin, borage, and pomegranate oils work to soothe the skin and make it all better.

Piyo Piyo Pure Water Baby Wipes –  contain only purified water, plant extracts, and moisturizing agents so these are safe for mouths, noses, ears, and hands.
Enjoy Life No Nuts Seed & Fruit Mix – A healthy snack mix of sunflower seeds, raisins, apples, chocolate chips, pumpkin seeds, and more. Free of the eight most common allergens including dairy and gluten.
Lasting Smiles Organic Lip Balm – A 100% natural, organic lip balm that's also fair trade certified. Sales of this balm help to fund surgeries for children who have cleft lips.
Love Child Organics Super Blends Pouch –  This features a blend of organic beets, sweet potatoes, apples, and cinnamon.  I'm sure my granddaughter will LOVE this!
I am happy with everything in the October Ecocentric Mom box, I can't wait to see what November's box will bring!  Thanks to US Family Guide, I get a free 2 month subscription for posting about EcoCentric Mom.
Click the image below to check out other featured gifts in our gift guide for 2015.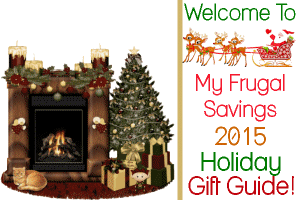 I'm a Gramma to a beautiful, funny, smart little girl who was born in July of 2014. She's the joy of my family and I'm so very proud to be a gramma (an alternate spelling for grandma)! I am a coffee, music, movie and outdoor lover! My family and I love picnics, festivals and concerts. Spending time with my family is the best part of my life. I love my job as well!  Blogging and product reviewing has given my family and I a lot and I have also learned a lot and made a lot of friends.