If you're looking for a little holiday cheer, look no further: Dr. Seuss How The Grinch Stole Christmas Grinchmas Edition is here! I have loved the cartoon for so long, I can't wait for this afternoon to watch it with my granddaughter. My husband and I really enjoyed this movie! Thank you Universal Studios for the review copy!
Synopsis:
Discover the true meaning of the holiday season with the live action adaptation of the beloved classic, Dr. Seuss' How the Grinch Stole Christmas. Starring Jim Carrey as The Grinch, director Ron Howard and producer Brian Grazer reimagine one of the most enduring holiday stories of all time. Why is The Grinch (Carrey) such a grouch? No one seems to know, until little Cindy Lou Who (Taylor Momsen) takes matters into her own hands and turns both Whoville and The Grinch's world upside down, inside out… and funny side up. Filled with dazzling scenery, special effects, makeup and costumes, this is an adventure "that can make your heart grow three sizes – if you're not laughing too hard!" (Steve Murray, Atlanta Journal-Constitution)
Background:
• The live-action adaptation of the holiday classic by Dr. Seuss
• Newly re-mastered in 2015 for improved HD picture and sound
• Includes Blu-ray + Digital HD
• Celebrating its 15th Anniversary
• Starring Jim Carey as the Grinch plus Molly Shannon, Taylor Momsen and Christine Baranski
• Directed by Academy Award Winner Ron Howard (Apollo 13)
My Review:
I watch the Dr. Suess' How the Grinch Stole Christmas movie every year and I am liking it more & more as each year passes. I loved watching it on blu-ray, as the picture is much clearer. I can't believe this movie came out 15 years ago! Now I feel real old! But what a great movie! This is one movie to share with your family in December and year 'round!  How about a Christmas movie marathon party! Include this one in that batch to watch 🙂
Click the image below to check out other featured gifts in our gift guide for 2015.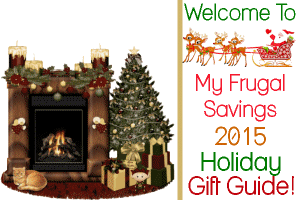 I'm a Gramma to a beautiful, funny, smart little girl who was born in July of 2014. She's the joy of my family and I'm so very proud to be a gramma (an alternate spelling for grandma)! I am a coffee, music, movie and outdoor lover! My family and I love picnics, festivals and concerts. Spending time with my family is the best part of my life. I love my job as well!  Blogging and product reviewing has given my family and I a lot and I have also learned a lot and made a lot of friends.