Deep River Snacks – The high quality snack brand that "Gives a Chip" is more than just a bag of chips… they pride themselves on doing right in everything they do. All
snacks are non-GMO
, made in a nut-free facility and contain no artificial dyes, flavors or preservatives. And each bag uses its packaging real estate to raise awareness for a specific charity!
This holiday season, Deep River Snacks is offering four special edition snack packs that make the perfect gift or stocking stuffer:  Chips & Charity Snack Pack.   A delicious assortment of Deep River Snacks kettle chips, plus a $10 charity gift certificate that the recipient can use to make a donation to their favorite non-profit.
Twelve bags of Deep River Snacks chips and a $10 charity gift certificate

Proudly made in the USA without artificial colors, flavors, or preservatives

Non-GMO, Certified Gluten-Free, and Nut-Free chips

Gift certificate redeemable on justgive.org allows recipient to choose from over 2 million charities!

Each bag features a great charity partner!

No Artificial Flavors, Colors, or Preservatives

Cooked Exclusively in Sunflower Oil

Supporting Charity — This bag features the Crohn's & Colitis Foundation of America! The CCFA helps those with IBD by providing education and awareness about the diseases and raising funds for research.

Flavored to perfection with olive oil and a hint of rosemary and garlic

Is free from cholesterol and gluten

Is Kosher certified
Check out the deep river snacks product page for flavors and other snacks like baked chips, popcorn and more! You can purchase Deep River Snacks on Amazon
I received 13 bags of these awesome chips to review. Salt and Pepper chips were very good, didn't taste a lot of salt, but the pepper definitely peeked its head! My daughter tried the Sour Cream and Onion and loved them! Not her favorite flavor, but she enjoyed it this time! Each chip is crunchy and the thickness is just enough to let you know you didn't buy a bag of Lays. Deep River Snacks are NOT greasy chips. Depending on the flavor they are just mildly seasoned and not coated in a heavy grease or oil. Each flavor stands completely on its own. None of the flavors are overpowering except maybe the Jalapeno flavor which is honestly I haven't tried yet, but from experience, it may be too hot. Overall:These are great tasting, unique flavored chips that are hands down better than the ones you can get in bulk at a Sams or Costco. Do yourself a favor and try a bag or two. I bet you'll love em like we did.
These are perfect for a stocking stuffer, anytime snack, and work or school lunch bag.
Click the image below to check out other featured gifts in our gift guide for 2015.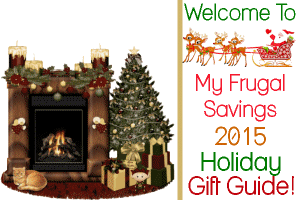 I'm a Gramma to a beautiful, funny, smart little girl who was born in July of 2014. She's the joy of my family and I'm so very proud to be a gramma (an alternate spelling for grandma)! I am a coffee, music, movie and outdoor lover! My family and I love picnics, festivals and concerts. Spending time with my family is the best part of my life. I love my job as well!  Blogging and product reviewing has given my family and I a lot and I have also learned a lot and made a lot of friends.