OMG! If you want a different snack, you've got to try Cookie Chips! They're awesome!
My family loves Cookies, my husband loves when I bake cookies because he loves them nice and hot, right off the pan! LOL Give him a glass of milk to go with them and he's a happy guy! I pitched HannahMax Baking, the Cookie Chips company because I've never heard of them and thought the idea of a cookie chip was unique and I just had to find out what they were! Being it's the holidays, I asked to review their holiday flavors as well as their regular flavor and they agreed 🙂
What's a Cookie Chip? A Cookie Chip is a very thin cookie that manages to taste fresh while having a bit of crunch. These cookies are delicious! Last year I created a holiday favorites section and these cookies made the list! They are completely addictive.
The holiday flavors are Harvest Pumpkin with Roasted Pepitas and Gingered Gingerbread. I've tried both! Let me just say, I almost ate the entire bag of the Pumpkin flavored in one day! I'm not a big Gingerbread person, so when my daughter asked if she could have a bag, I said sure! Well, she opened them, and really liked them, but she ended up forgetting her bag here and I just tried a piece and OMG! YUMMY YUMMY! I found a way to like gingerbread! The flavor isn't too over powering and it has sugar on top which really made the cookie taste fantastic!
There are six varieties of Cookie Chips – Original, Chocolate Chip, Dark Chocolate Chocolate Chip, Cinnamon Sugar, Sea Salted Peanut Butter and Oatmeal Raisin. One serving, which is about five cookies, is 120-130 calories. Not bad! Of course this will only matter if you only eat five cookies at a time, something I do not seem to able to do. They are just that good. These delicious crunchy cookies are made with cage-free eggs, creamery butter, cane sugar and pure Bourbon vanilla. They never contain trans fats, artificial flavors or colors, preservatives or GMOs.
The cookies are a bit crunchy, but still manage to have texture. For example the chocolate chip cookies are crunchy and yet soft enough that the chocolate chips in them can smudge on your hand. The cookies taste fresh, as if they were just recently made. They have a crispy thin edge. And they aren't thick and hard as a rock like some store bought cookies.
Cookie Chips to make creative combos! For example, sprinkle Cinnamon Sugar Cookie Chips crumbs in a bowl of applesauce, or blend Dark Chocolate Chocolate Chip Cookie Chips into a vanilla smoothie for a irresistible Cookies n' Cream taste.
If you're looking for a delicious sweet treat with a little crunch, you need to try these. If you like cookies you need to try these. Seriously, just try these. They are so good!
Cookie Chips are available on Amazon as well as at Whole Foods, Safeway, Vons, Pavilions, Jewel, Fresh Market, Earth Fare, and at specialty grocers and gourmet stores across the U.S. To find a location near you or to purchase online, visit www.crunchycookiechips.com.
Be sure to enter to win a holiday multi pack of these delicious cookie chips!
Click the image below to check out other featured gifts in our gift guide for 2015.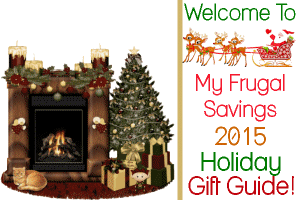 I'm a Gramma to a beautiful, funny, smart little girl who was born in July of 2014. She's the joy of my family and I'm so very proud to be a gramma (an alternate spelling for grandma)! I am a coffee, music, movie and outdoor lover! My family and I love picnics, festivals and concerts. Spending time with my family is the best part of my life. I love my job as well!  Blogging and product reviewing has given my family and I a lot and I have also learned a lot and made a lot of friends.