I love wine, but I am very particular on the type of wine I drink. I don't like a strong tasting wine, it needs to have flavor and make me want more! Sometimes, I'll take a sip of some wine and immediately don't like it and it's a waste to me. However this holiday season I decided to celebrate the Holidays with Wine and wanted to try some different wines. So I pitched Apothic, Mondavi and Sterling Vintner wines, because they sounded good. 🙂
Wine is a great way to celebrate any holiday, or have on a date night or just at night while relaxing and watching TV with your hunny! 😉
Sterling Vintner's Collection 2013 Meritage
Meritage is the result of the special synergy that is formed when everything comes together perfectly – in this case: Merlot, Cabernet Sauvignon, Cabernet Franc, Malbec and Petit Verdot. Layers of dark fruit, cassis, leather and rich earth weave together to create a complex and juicy wine. Ripe tannins and oak aging lend depth and texture, highlighted by vanilla and mocha spice. Balanced flavors and a long, lifted finish make this a perfect wine to enjoy with chocolate or your favorite holiday treat. Pair with anything from herb-roasted chicken to grilled steaks and hearty pastas. $12.99
We enjoyed the Sterling Vintner's Collection 2013 Meritage wine for Thanksgiving and all I can say is YUM! The aroma was awesome! The flavor was fantastic and I want more! I've got to find where I can buy more! My husband who is NOT a wine drinker even liked it and said we need to buy more! 🙂 It wasn't too strong of a wine, and made me want another glass. The bottle had 4 servings in it LOL As I said, I like wine 😉
If you are interested in purchasing Sterling Vintner's Wines, use their site locator to see where it's available.
CK Mondavi Chardonnay and Scarlet Five Wines
Mondavi sent me two bottles of wine, some Simply Gourmet creme d'or cheese, and these adorable Valley Lahvosh Star Crackers (which, by the way are dangerous as I just kept picking at them straight out of the box).  Please visit the Intrepid Fallen Heroes Fund to learn more about how you can support American veterans and their families.
CK Mondavi wines are produced in the Napa Valley by the iconic C. Mondavi & Family. Established in the 1940s by Italian immigrants. C. Mondavi & Family remains a family- owned business that has thrived for generations to produce fine wines for a variety of occasions and consumers. The family is now proudly welcoming members of the fourth generation to the business, continuing a legacy started over 70 years ago. 100% American grown and bottled, the CK Mondavi portfolio consists of the most popular varieties of wines that are handcrafted.  A large portion of the grapes are grown on the family's 1,850 acres of vineyards, or are sourced from vineyards that the family has had partnerships with for generations. CK Mondavi wines are consistent, vintage-to-vintage, providing consumers with a value and quality they can trust. They can be found online at CKMondavi.com, or on Twitter, Facebook, Pinterest and Instagram.
Chardonnay (SRP: $6.99) – a little oaky with a mix of fruity and citrus flavors. The wine is fairly refreshing and would pair perfectly with pasta and with Crem D'or, Brie, Camembert, Munster, Havarti, Mozzarella, Provolone cheeses.
Scarlet Five (SRP: $6.99)– a full-bodied and well-balanced wine with hints of cherry and plum. It has a bold flavor and aftertaste. This wine is special as it based on five red varieties – It has the backbone of Cabernet Sauvignon, the finesse of Merlot, the structure of Petit Verdot, the floral essence of Cabernet Franc and the boldness of Malbec. This wine would pair well with Cambozola, Asiago, Parmesan, Fontina, Ricotta, Brie, Roquette cheeses.
If you are interested in purchasing the CK Mondavi wines, please use the wine locator to see where they are located in your area
Follow Lavish Crackers on Facebook and Twitter
Click the image below to check out other featured gifts in our gift guide for 2015.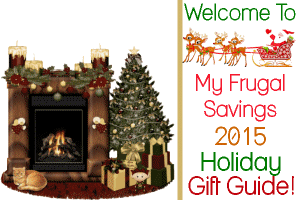 I'm a Gramma to a beautiful, funny, smart little girl who was born in July of 2014. She's the joy of my family and I'm so very proud to be a gramma (an alternate spelling for grandma)! I am a coffee, music, movie and outdoor lover! My family and I love picnics, festivals and concerts. Spending time with my family is the best part of my life. I love my job as well!  Blogging and product reviewing has given my family and I a lot and I have also learned a lot and made a lot of friends.