Did you ever think there would come a time when you did not need to wear a watch? With the ever so popular smartphones, there really isn't a need.  However, some people like my husband need a watch because of their job or eyesight, whatever the case may be.  My husband wears his watch because he can't always grab his phone when he wants the time.  It's a very nice watch, but he wears it to work and out, so when I received an email from a Casio rep, I decided this was the year to hopefully get him a nice watch to wear when we go out and asked for a review piece! After some discussion with the rep, I received the Casio MDV106 Stainless Steel Sport/Diver Watch, and it is exquisite!
About the Casio MDV106 watch
Inspired by the sea, this A black resin band and stainless steel case give it a classic look while its anti-reverse bezel adds classic dive functionality. Simple 3-hand analog with date display for a easy-read. Black resin band analog watch with a black & white face.
Features of the watch
200M Water Resistance
3-Hand Analog
Anti-Reverse Bezel
Date display
Technical Specs
200M Water Resistant
One-way Rotating Bezel
Screw-down Crown
Screw-lock Back
Mineral Glass
Date Display
3-Hand Analog
Accuracy: +/-20 seconds per month
Battery SR626
Approx. battery life: 3 years
Module 2784
Size of case / total weight
48.5 x 44.2 x 12.1mm / 92g
VERY IMPORTANT: you must unscrew the crown first before attempting to pull it out and set the time/date.
You can purchase the Casio MDV106 online at Casio.com on Amazon, Walmart, Target and JC Penny too!
Click the image below to check out other featured gifts in our gift guide for 2015.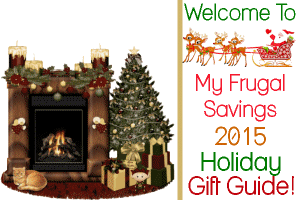 I'm a Gramma to a beautiful, funny, smart little girl who was born in July of 2014. She's the joy of my family and I'm so very proud to be a gramma (an alternate spelling for grandma)! I am a coffee, music, movie and outdoor lover! My family and I love picnics, festivals and concerts. Spending time with my family is the best part of my life. I love my job as well!  Blogging and product reviewing has given my family and I a lot and I have also learned a lot and made a lot of friends.