Give the gift of organization this Christmas!
This is a very nice 5 Piece Detachable Organizer Set! You can use them together or separated in a desk draw, in your kitchen drawer, virtually anywhere.  The organizers are made of a plastic coated wire and are very durable and won't break like plastic organizers. I love that it is designed with an open grate to keep dirt and dust from build up in the container. This detachable organizer set can be easily cleaned with a swipe of the included microfiber towel. These arrived just in time to help get my kitchen drawers in order so they'll be more organized with the holidays coming.
Product Description

VERSATILE – Highly versatile desk drawer organizers for office organization, makeup organizer tray, kitchen drawer organizer, garage organizer, bathroom drawer storage and more!
DETACHABLE – 5 individual organizer for drawers that can be mixed and matched.
EASY TO CLEAN -These drawer organizers for desk are easy to clean, just wash with warm water and soap.
VARIETY OF SIZES – Size 1 – 3″ x 8.75″ x 2″ | Size 2 – 3″ x 12″ x 2″  | Size 3 – 6″ x 6″ x 2″ | Size 4 – 9″ x 6″ x 2″  | Size 5 – 12″ x 6″ x 2″.
You can purchase this organizer on Amazon.
Click the image below to check out other featured gifts in our gift guide for 2015.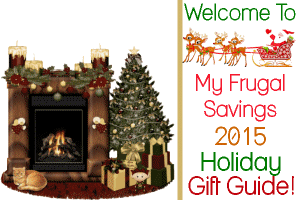 I'm a Gramma to a beautiful, funny, smart little girl who was born in July of 2014. She's the joy of my family and I'm so very proud to be a gramma (an alternate spelling for grandma)! I am a coffee, music, movie and outdoor lover! My family and I love picnics, festivals and concerts. Spending time with my family is the best part of my life. I love my job as well!  Blogging and product reviewing has given my family and I a lot and I have also learned a lot and made a lot of friends.