As a member of the Pitch List I was offered a chance to try OMEGA-3 Water.  I jumped to join the opportunity because I knew this would be a great addition to my husband's daily water intake! I received 2 cases of Omega3Water to try out. The waters come in two flavors, Orange Kiwi and Bold Berry.
Omega-3 Water is infused with Omega-3, Vitamin A, B Vitamins (3, 5, 6, and 12), and Vitamin C.  Omega-3 is important to your health because it benefits so many different things, but most importantly, is that it's part of your heart health!  Omega-3 is also known as fatty acids and are commonly found in marine and plant oils.  Omega-3 is also beneficial in treating cholesterol.
My husband has high blood pressure, that's because his favorite seasoning is SALT!  I've gotten him to cut back on that after finding LITE Salt.  The one health issue my husband has never had is High Cholesterol.  I know it is because I buy milk, butter and other things that have Omega-3 in them.  When we learned of my husband's high blood pressure, I started buying everything that was healthier for him. Omega-3 Water is just one more thing to add to my grocery list 🙂
The Orange Kiwi flavor tastes just as it says Orange/Kiwi. It has 20,000 mcg of Omega-3  from flax seed (so it is vegan too!) and vitamins A B3,5,6,12 and C.
The bold Berry has a hint of berries and also has 20,000 mcg of Omega-3 from flax seed, calcium and vitamins B3,5,6,12 and D!
My husband and my favorite is the Orange Kiwi.  I gave one to my sister to try the day the package arrived and she also loved the Orange Kiwi. I am actually sitting here drinking an orange Omega-3 water as I write this review! LOL
You can learn more about Omega-3 Water by visiting their website where you can also find a list of stores that carry their water. Also check them out on Facebook, Pinterest, and Twitter!
Now for the fun!
5 lucky winners will get to try Omega-3Water!  
Giveaway will end November 18th midnight EST!
Click Image to go to Giveaway.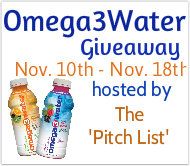 Share your thoughts in the Comments section below, on our Facebook Page, Our Twitter Account or Head Over To Our Instagram or Pinterest Page! and don't forget to check out our Youtube Channel ♥
Sharing is Caring 🙂
Liked what you read? Perhaps you would also like the below related posts.