Ice Chips are an all natural, xylitol-based mint that come in 20 delicious flavors. Why xylitol? Because it has both restorative and protective powers. While it is a wonderful and natural substitute for sugar, it is in the mouth that xylitol exhibits its most beneficial qualities.
Many studies show it can actually restore damaged enamel. Additionally, xylitol provides an inhospitable environment for germs and bacteria, meaning they cannot thrive and multiply when xylitol is present. Xylitol is also safe for diabetics. For these reasons, many dentists now sell xylitol products in their offices and encourage the use of xylitol mints and gum in their patients.
We received 2 Ice Chips Variety packs: The Holiday flavors which are Peppermint, Cranberry, Egg Nog, Pumpkin Spice, Wintergreen, and Cinnamon. Regular flavors which included Lemon, Sour Apple, Sour Cherry, Berry Mix, Strawberry Daiquiri and Root Beer Float.
We were excited to get these new holiday flavors along with some traditional flavors. I am all about everything Pumpkin Spice and my daughter wanted the Egg Nog flavor (which we are splitting) and is pretty good, although it's a little bit more of an acquired taste. I can't wait to open the Cranberry flavor.  Ice Chips are a healthier alternative to sugary gums and candies, and tastes better than most of the candies and mints we usually buy. The Ice Chips tins are easy to carry in pockets or purses and are reusable for small household items, screws and nails, and things of that sort. We loved reviewing the Ice Chips brand!
These would make a good stocking stuffer for anyone above the age of 5 or 6 yrs of age. Available at Walmart, on the Ice Chips website and on Amazon.
Connect with Ice Chips on social media.
Click the image below to check out other featured gifts in our gift guide for 2015.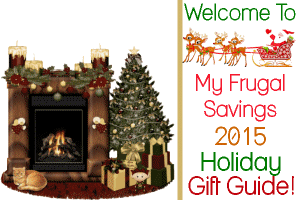 Share your thoughts in the Comments section below, on our Facebook Page, Our Twitter Account or Head Over To Our Instagram or Pinterest Page! and don't forget to check out our Youtube Channel ♥
Sharing is Caring 🙂
Liked what you read? Perhaps you would also like the below related posts.