Give the gift of organization this Christmas!
This is a very nice 5 Piece Detachable Organizer Set! You can use them together or separated in a desk draw, in your kitchen drawer, virtually anywhere.  The organizers are made of a plastic coated wire and are very durable and won't break like plastic organizers. I love that it is designed with an open grate to keep dirt and dust from build up in the container. This detachable organizer set can be easily cleaned with a swipe of the included microfiber towel. These arrived just in time to help get my kitchen drawers in order so they'll be more organized with the holidays coming.
Product Description

VERSATILE – Highly versatile desk drawer organizers for office organization, makeup organizer tray, kitchen drawer organizer, garage organizer, bathroom drawer storage and more!
DETACHABLE – 5 individual organizer for drawers that can be mixed and matched.
EASY TO CLEAN -These drawer organizers for desk are easy to clean, just wash with warm water and soap.
VARIETY OF SIZES – Size 1 – 3″ x 8.75″ x 2″ | Size 2 – 3″ x 12″ x 2″  | Size 3 – 6″ x 6″ x 2″ | Size 4 – 9″ x 6″ x 2″  | Size 5 – 12″ x 6″ x 2″.
You can purchase this organizer on Amazon.
Click the image below to check out other featured gifts in our gift guide for 2015.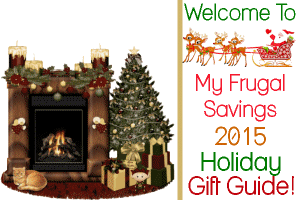 Share your thoughts in the Comments section below, on our Facebook Page, Our Twitter Account or Head Over To Our Instagram or Pinterest Page! and don't forget to check out our Youtube Channel ♥
Sharing is Caring 🙂
Liked what you read? Perhaps you would also like the below related posts.